Selling your Miami Home has Become a Two Step Problem!!
Where to Go After you Sell Your Miami Home?
I'm ultimately curious to know how many people who read this article will stand up and say 'Yes, that's me! That's exactly my problem'. I'm curious, but I automatically feel I can guess the answer.
If you're a Miami local reading this, if you live in the primary markets of Coconut Grove, Coral Gables, Pinecrest, Key Biscayne or any of the gated communities. Hell, I am going to come right out with it. For anyone who is in their 'primary home'. I am guessing 100/100 will respond the same way to this following fictitious role play.
The All-Too-Familiar Scenario
Realtor: Knocks on door.
Owner: How can I help you?
Realtor: Sorry to disturb, but I have a client who would love your home. They are from California / New York / Connecticut / Chicago and will pay top dollar. What's your price?
Owner: I really am not selling.
Realtor: How about 30% 50% 70% 100% above what you paid X numbers of years ago. Name your price? (offer escalates to an 'out of this world number')
Owner: I would but I have nowhere to go?
Realtor: Thanks, please take my card and let me know if you change your mind.
THIS HAS HAPPENS EVERY SINGLE DAY IN MIAMI FOR THE LAST 12 MONTHS!
Selling your Miami Home has Become a Two Step Problem! How do you capitalize on this market without overpaying for your next home?
Where To Move to Next?
Now this is a backward move. Ever jumped into your car and started randomly driving in a direction without a destination in mind? No! Ever gone to an airport and randomly flown to a different country? Unless you're Dave Grohl the answer is likely NO again! I have realized that selling is a two part problem. Most home owners in these markets have absolutely no intention of leaving South Florida, and so selling really really high, means buying really really high. If you are luckily enough to find another home and not end up in the rental market.
I have now decided to forgo the obvious: "Do you want to sell?"
With the more appropriate: "If this is not your dream home. What would be better than what you have now and how can I help you find that?"
Our Off-Market Database
I realized that this sets me up for one hell of a challenge. It would be easier to say 'Sell now, the market will crash, let's get you into a rental and wait for the dust to settle', and although certain markets may certainly experience a correction (see my upcoming blog article, where I recommend we pay close attention to the volatile stock market, Hawkish Fed and inflation) the primary markets are overall more robust. We have a very low level of LISTED inventory, and when properties are listed we have experienced the ensuing 'rich people's fight club' where properties encounter multiple bids, and we get further away from fair market sales, where the sales price is simply based on who wants it more out from the extensive pool of relocating buyers. So the best option and in many cases …. Is finding a property that is not listed.
So with this in mind we have decided to create a database of 'off market' and very importantly a list of ALL the homes being built in the key neighborhoods – Coconut Grove, Coral Gables, South Miami, Key Biscayne, Pinecrest and Ponce Davis (plus others)!
My Own Experience after I Sold My Miami Home
I remember that when I bought my last house I discovered it as a 'shell'. I approached the builder / developer and struck a deal where I could make my own personal finishes. (my wife Luciana owns Design Solutions) an award winning architectural and Design firm, and this is EXACTLY what she does on a daily basis for all her clients. As a very established interior designer, she had direct contact with top level custom vendors – Millwork, kitchen, bathrooms etc. The builder had set a budget for the kitchen, bathrooms etc, and as these had not been purchased yet, when we struck the deal we were able to apply the credits for the materials to the upgraded versions we wanted. The end result was a very high level custom home. My approach here is also explained in our separate blog: 'Building a new construction home in Miami – My experience – Do's and Don'ts' [Coming Soon].
Please fill in your details and David Siddons will contact you

Subscribe!
Get uninterrupted access to our entire articles and blogs database.
Get our

Newsletter

No Thanks
Get the latest news from Miami Real Estate News
Email to a Friend
Recomend this to a friend, just enter their email below.
Your email was sent successfully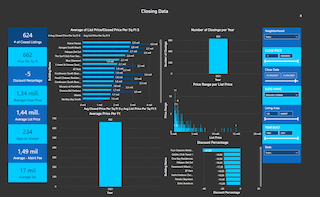 COMPARE WITH CONDOGEEKS

Meet our Team