Five Park Miami Beach | Is This The Best New Condo In Miami Beach?
Introducing the Brand New Five Park in Miami Beach | Bay and Oceanfront Residences
The David Siddons Group is sharing the first project details here while answering the most important question: "Will Five Park be one of Miami's Best New Condos?".  Continue reading if you would like to learn more about Five Park's best floor plans and the value of this new luxury condo in South Beach compared to other condos.
Five Park in Miami Beach
Five Park is a brand new construction condo that will be erected on 500 Alton Rd in Miami Beach. This brand new condo will offer 98 residences, which makes it a low density project. Five Park unites timeless glamour with a new, multidisciplinary approach to development. The site pairs a soaring residential building — with 48 floors, this condo will be the tallest in Miami Beach — with an expansive 3- acre public park, tasteful retail inclusion, and the creation of an art-inspired bridge that makes the South of Fifth community a walkable wonderland surrounded by Florida's pristine waters. Five Park offers a host of amenities that underscore the importance of living well and wellness itself. On-site work spaces, thoughtfully designed fitness areas, pools with sweeping views of Florida's coastline, events and areas designated for families, and units designed to accommodate your every need invite you to embrace the transformative nature of a place like Five Park.
The Floor Plans at Five Park
The most important aspect in buying a unit is choosing the right floor plan. Five Park offers 2 to 5 bedroom residences ranging from 1,434SF to 6,000SF. Residences come fully finished and offer 10ft ceilings and private elevators.  There are 5 different floor plans, which offer views over the ocean, the bay, the city, the park or a combination of these. We have included the different floor plans below.
The premium floor plans are the 01 and the 03 line. According to the developer the 03 line will be the most sought-after line. The 01 line is a very large 3,186 SF unit with a 1,083 SF balcony providing for 180 degree views (East, South and West) which include the bay, the city, the port of Miami and the ocean. The ocean can be seen from the living room as well as two of the bedrooms (not the master bedroom). The 03 line offers 180 degree views on the other side of the building (North, East and West) covering the bay, the city, the park and the ocean. This line offers 2,615 SF with just under 1,000 SF of terrace. The larger 02 line offers just bay views while the smaller 04 and 05 lines offer just ocean views.
The Finishes at Five Park
Residences will be delivered fully-finished and range from 1,434SF to 6,000SF. We do not know much about the level of finishes in this condo and this is always somewhat tricky with pre-construction condos until you see a model residence. What is known is that the residences will feature Gabellini Sheppard custom-designed kitchens and bathrooms, Italian-made kitchen cabinets as well as Italian made vanities and textured glass shower doors in the bathrooms. Kitchens will feature Gaggenau appliances and secondary bathrooms will offer Hansgrohe bathroom fixtures. Stay tuned for more information or call me at 305.508.0899.
Walkability
Five Park is located in a very walkable area of Miami Beach. Take a walk in the brand new park that is being developed adjacent to Five Park or cross the Pedestrian Bridge into South of Fifth. The South of Fifth area is extremely walkable and offers trendy and world-class restaurants such as Carbone, Planta, Prime 112 and Smith & Wollensky. The beach is within walkable distance as well. Maybe not walkable but a mere 5 to 10 minutes in the car is Sunset Harbour, a hang out spot for locals offering more trendy restaurants and bars.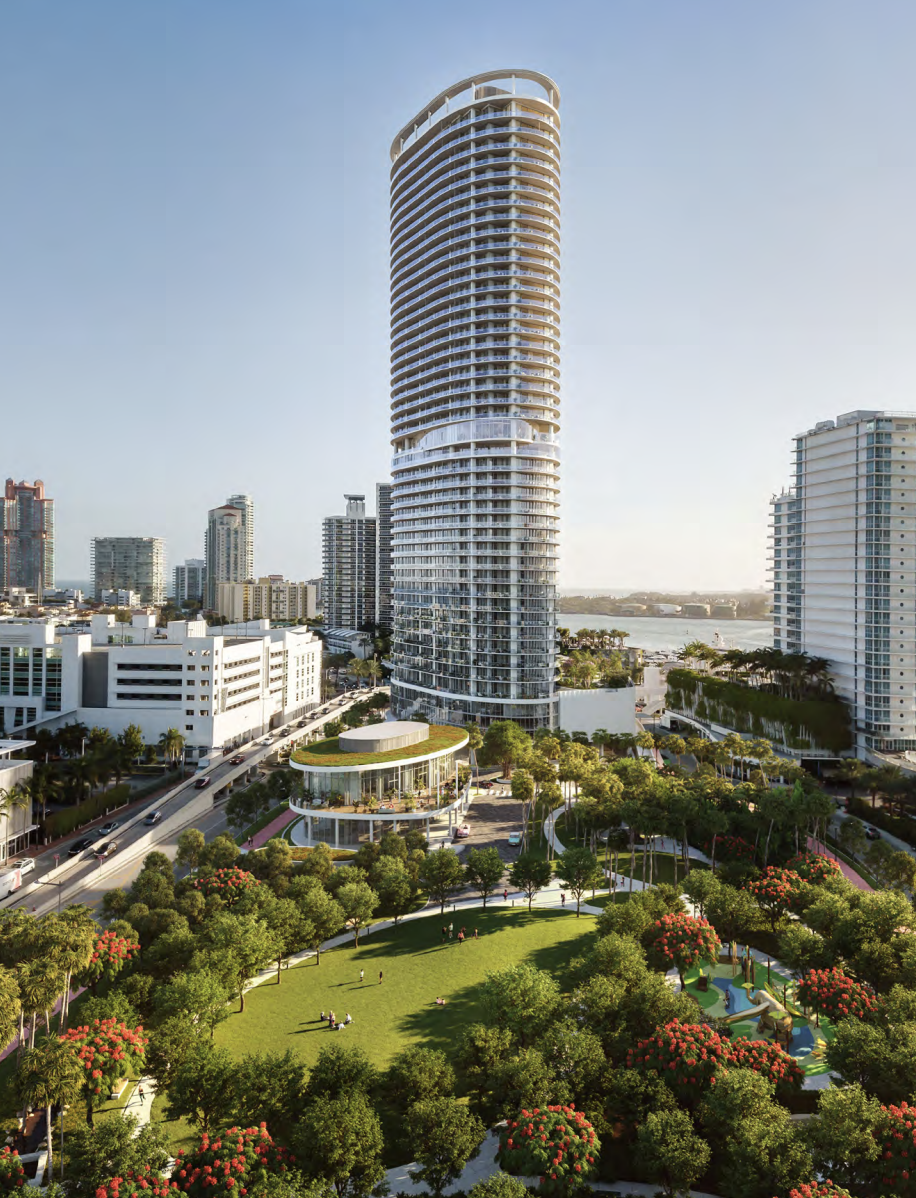 Amenities and Services
Five Park offers the services and amenities that one can expect from a condo of this calibre. Two pools, a pool bar, a gym, a Spa and a screening room. They also offer a children's learning lab and teen club as well as a co-working studio and luxury short term guests suits. The condo offers a owner-only private club featuring private dining, a wellness lounge, a club room and a spa.
The Value of Five Park
Five Park starts selling at $2.5M for the 2 bedroom units that offer 1,400SF. More specific price details will follow later, but the average price is around $1,800 a SF. Comparing Five Park's asking prices to other newer condos on the Beach we see it will be competing with condos such as 1 Hotel and Homes, Fendi and Oceana Bal Harbour. Prices are also in the same price per SF range as Continuum and St Regis. All of these condos are located right on the sand. This is however one of the only new condo projects in South Beach and South of Fifth. Whether this is worth the value depends on your floor plan, the level of finish we will be seeing and the specific price of the unit.
Please contact David Siddons at 305.508.0899 for specific prices per unit and for a more in-depth comparison between the different condos and specific floor plans!
Average Sales Prices per SF in the last year for condos constructed after 2015 in Miami Beach, Surfside and Bal Harbour.
Image taken from CondoGeeks. Condo Geeks is the most advanced analytics tool ever created for the Miami Condo Market. Click here for more information.