A Second Home in Miami, Should I Buy a Condo or a Home?
A Condo vs a Home as a Second Property in Miami
Whether a Miami home or a Miami condo serves better as a second home is very much a personal one and of course neighborhood dependent. Although there is no universal answer to this question, buyers might find the below questions extremely helpful in deciding which type of property best fits their needs. Besides the best fit for your lifestyle we also feel compelled to provide you with background information on the Miami market and what could potentially be the best investment.
A Second Home in Miami – A Home Vs a Condo
What Neighborhood do you want to live in?

Some areas offer pre-dominantly single-family homes while others offer more condos. 

How big a property do you need?

As a general rule of thumb, single family homes are larger than condos although some brand new condos (Park Grove and 87 Park for example) offer large residences

How willing are you to manage a property?

Condos of course require less involvement than houses

What is the budget?

The budget will tell us which areas will offer you most value for money

How many times a year will you visit the home?

Condos are safer than homes and of course easier to upkeep

What yearly budget are you allowing for property maintenance?

Although a home is more labor intensive, a condo has higher maintenance fees which are mandatory fees

Would you want to rent it out when you are not there?

A house can be rented out whenever you want, while renting out a condo is subject to the condo's rental guidelines (Generally speaking once or twice a year)

How important are amenities and convenience?

Condos are more convenient while offering more amenities.

Highly concerned over security?
Best Type of Second Property in Miami from an investment point of view
The condo market is more of an investment market, one that relies heavily on outside money and is less of a necessity and more of a discretionary purchase. These markets suffer most from macroeconomic changes as these assets are easiest to offload without affecting someone's life. Add to this the fact that many investors are foreigners and therefore currency fluctuations come into play. Finally, the condo market has seen a large amount of construction over the last years until they reached the point at which the market could not absorb this supply anymore. Once these new construction condos started reselling it became apparent that at this inflated price point the demand was very low. The single-family home market behaves in a completely different way than the condo market. Single-family homes represent the primary markets and this is a necessary purchase. Therefore this market is more stable and it is harder to overbuild in this section of the market. In short the Miami condo market is more dynamic and the market experienced some extreme cycles in the last decades. If you are an investor you can win big with this but of course there are more risks involved. The single-family home market on the other hand is more stable!
The above video was shot explaining the difference between the condo and the single-family home market during Covid-19. Nonetheless the logic behind this discussion will also apply for markets that are not in the middle of a pandemic.
Browse Condos for sale in these neighborhoods:
Browse Homes for sale in these neighborhoods:
Please fill in your details and David Siddons will contact you
Get our

Newsletter

No Thanks
Get the latest news from Miami Real Estate News
Email to a Friend
Recomend this to a friend, just enter their email below.
Your email was sent succesfully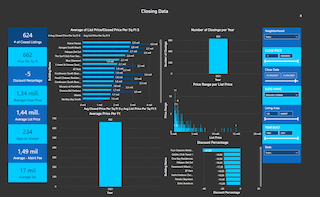 COMPARE WITH CONDOGEEKS