Why Coral Gables is a 'Hot Market' for Real Estate Investors in 2020
Why the Coral Gables Real Estate Market is a healthy market in 2020?
Coral Gables real estate is very desired; from young families to empty nesters the Coral Gables real estate market has a variety of homes to offer for a wide range of budgets. The market has shown a stable value increase year over year and is therefore one of Miami's best performing real estate markets. Coral Gables has not seen strong value fluctuations over the last few years and has slowly but steadily seen its value increase.  In the below article top producing Coral Gables realtor and resident David Siddons shows us why Coral Gables is a healthy real estate market.
The Coral Gables Housing Market is very Stable
The Coral Gables real estate market shows very positive numbers (see our Live Analytics page).  To look at the health of a market we look at the months of inventory (Indicating the Supply vs demand curve), the days a property stays on the market and the difference between its asking prices and sales prices.
In the last few years Coral Gables has shown very positive numbers and is arguably one of Miami's healthiest real estate markets. The months of inventory show a healthy relationship between the supply and demand of Coral Gables real estate and well priced properties sell very fast and near asking price.
Watch our latest video (right hand side) in which David Siddons provides you with an update and forecast on the Coral Gables Real Estate Market and follow our live analytics page to see the Neighborhood Economic Health Score of Coral Gables.
Coral Gables Real Estate
Coral Gables real estate is desired as the neighborhood is centrally located, very safe and offers a wide variety of homes for a wide variety of budgets. The most exclusive Coral Gables Real Estate can be found west of US1. Here one can find most of the Coral Gables waterfront homes for sale and all the gated communities.
Last, but definitely not least, Coral Gables real estate is desired because the area offers some of Miami's best private schools (St Philips,  St Stephens or Riviera Schools) or is close to private schools in other areas such as Pinecrest or Coconut Grove.
Coral Gables Luxury Homes for Sale
Most Coral Gables Luxury Homes for sale can be found in the South East of Coral Gables,  around the Golf Courses (In West Gables) or the waterways in the Riviera neighborhood (West Gables). Most of the luxury homes in Coral Gables can be found in the exclusive Coral Gables gated communities such as Gables Estates, Cocoplum, Tahiti Beach or Snapper Creek.
Coral Gables Gated Communities
Many Coral Gables luxury homes are located in a gated community. Most of the gated communities are located in the east of the Gables and can be found along the water or around a lake. Some of the most desired communities are Cocoplum, Tahiti Beach, Gables Estate, Gables by the Sea and Sunrise Harbour. The link below will help you find Coral Gables homes for sale in these gated communities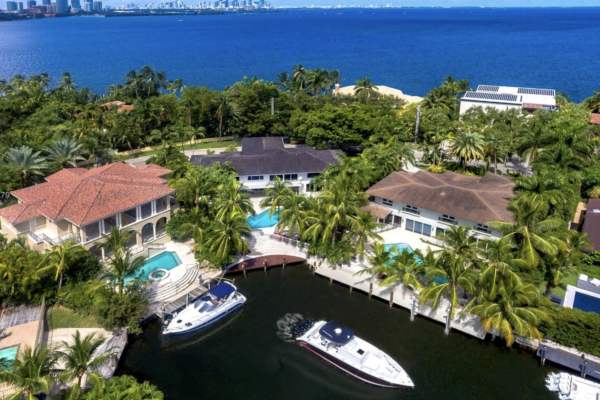 Coral Gables Waterfront Homes for Sale
Coral Gables is arguably one of the best areas in Miami to look for waterfront homes. Many of the Coral Gables waterfront homes for sale are located in the prestigious gated communities. The Gables offers some of the few waterfront homes in Miami that are directly on the open ocean with unobstructed ocean views. Waterways homes can also be found in the western parts of the Gables. These home are located on canals, which are further away from the open ocean.
Some Coral Gables homes on the water are lakefront without access to the open ocean such as some of the homes in Hammock Lakes, Hammock Oaks and Snapper Creek Lakes and Cutler Oaks.