What is the Best Condo in Brickell at this Moment?
What is the Best Brickell Condo Deal at the Moment?
When it comes to buying in Miami condos and advising my clients I like to follow a strict set of investment rules. I believe there is value in any market at any time if you buy the right product.
A condo needs to be scarce, luxurious and with features that cannot be easily copied. Having said that, most Brickell condos do not match these criteria. Many brand new condos are offering standard units with standard finishes, with often 15 units per floor, and are mainly bought up by investors who are renting them out. Besides this, the (bay) views are often absent or only available at a very high floor.
When it comes to buying Brickell condos forewarned is forearmed. However, I like to share my thoughts with my clients and readers whenever I see a superb property in which I truly believe.
The Exclusive Listing Video of Penthouse 3703 at Carbonell, Brickell Key
A Superb Penthouse on Brickell Key with 1,750 SF of terrace
A brand new penthouse just hit the market. This penthouse is located in the desired Carbonell building on Brickell Key. The penthouse offers 3 bedrooms, 3,5 bathrooms and 2,951 SF of interior space. This penthouse on the 37th floor also offers no less than 1,750 SF of terraces.
This condo really offers a unique value and meets my purchasing criteria.
The condo is located on the gated island of Brickell Key. As the word island implies, space is limited and therefore supply is limited. The demand for properties on Brickell Key on the other hand is high. This exclusive island is steps away from the busy Brickell core and its financial centrum yet feels completely secluded, quiet and private.

Many families choose to live here for the quality of life, safety and green spaces.

Brickell Key condos see a much higher amount of home owners who actually live in their units which is not very common in Brickell. As one can imagine, life long owners increase the condo's value compared to temporary renters

The key is located in the Bay with unobstructed views over the water and the city

Good 3 bedroom units are scarce in Brickell, especially those in large size units like this 2,951 SF unit

The Carbonell condo has been standing out in the crowd for more than 10 years and is more than a temporarily fashionable condo. Carbonell is seen as a high-end product and attracts a sophisticated crowd who wants the condo life without having to sacrifice living space and privacy

This unit is unique in the building. It is the only Penthouse with a bonus room, 3 terraces and a Jacuzzi!

This condo is unique with its 24 Ft ceilings in the living room which is rarely seen in Miami let alone in Brickell.
Key Data: 3 Bedrooms | 3,5 Bathrooms | 2,951 SF Interior | 1,750 SF Terrace | Listed for: $2,750,000
Address: 901 Brickell Key Blvd, PH 3703
Meticulously maintained and designed penthouse unit with 1,750 SF of terrace, arguably the largest terrace in Brickell! This penthouse is located in the desired Carbonell condo on the gated island of Brickell Key and features 3 master suites and 3.5 bathrooms. The bright and spacious living area offers soaring 24 foot ceilings with direct ocean views and 12 foot ceilings on the second floor. The formal dining features Swarovski crystal wall paper and the unit comes with surround sound system (inside & outside) and high impact windows.
Please fill in your details and David Siddons will contact you
Get our

Newsletter

No Thanks
Get the latest news from Miami Real Estate News
Email to a Friend
Recomend this to a friend, just enter their email below.
Your email was sent succesfully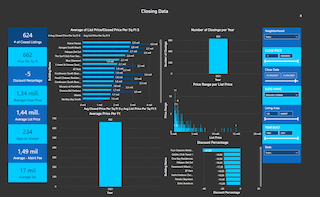 COMPARE WITH CONDOGEEKS