What are the Best Gated Communities in Pinecrest, Florida?
The Best Pinecrest Gated Communities 
Here is a selection of the best gated communities in Pinecrest, for you to consider when moving to the area. As we deal with a lot of clients from all over the world the primary reason that some of them choose for gated communities is because of security and privacy. There is no concrete data that proves or disproves the hypothesis that there is lower crime rates in gated communities,  but it sure gives the residents more privacy, sense of community, less traffic and last but not least higher property value. We start with the gated communities in Pinecrest and end with those that are just walled. Please find below the 12 communities that are considered the best in Pinecrest.
Please contact the David Siddons Group to know more about gated communities in Pinecrest
Cristiane Buzolin | +1.305.775.1198
David Siddons |+1.305.508.0899

ARABESQUE is a community with 18 homes in Pinecrest on builder's 1/2 acre lots. The community was developed between 1988 and 1993 by Hollub Builders, a very well-known builder that is much known for great quality final product. This prestigious community features individually designed homes surrounded by beautiful landscaping, a private wall and security gate. Located between 110th Street and 112th Street /  77th Ave to 78th Ave, homes range from 3-5 bedrooms with 3,000-4,000 sf of living area and 13,650 – 20,000 sf lots.
ARBORETUM ESTATES is a gated community with 12 homes located from 100th Street to 102nd Street just off of 57th Avenue near Pinecrest Elementary School. Built between 1991 and 1993, Arboretum Estates' Pinecrest homes range from 4-6 bedrooms with 4,205-6,223 sf of living area and 15,974 – 19,510 sf lots
Built by Brookman – FELS,  some features include volume ceilings, granite, marble, gourmet kitchen, fireplaces and private pools.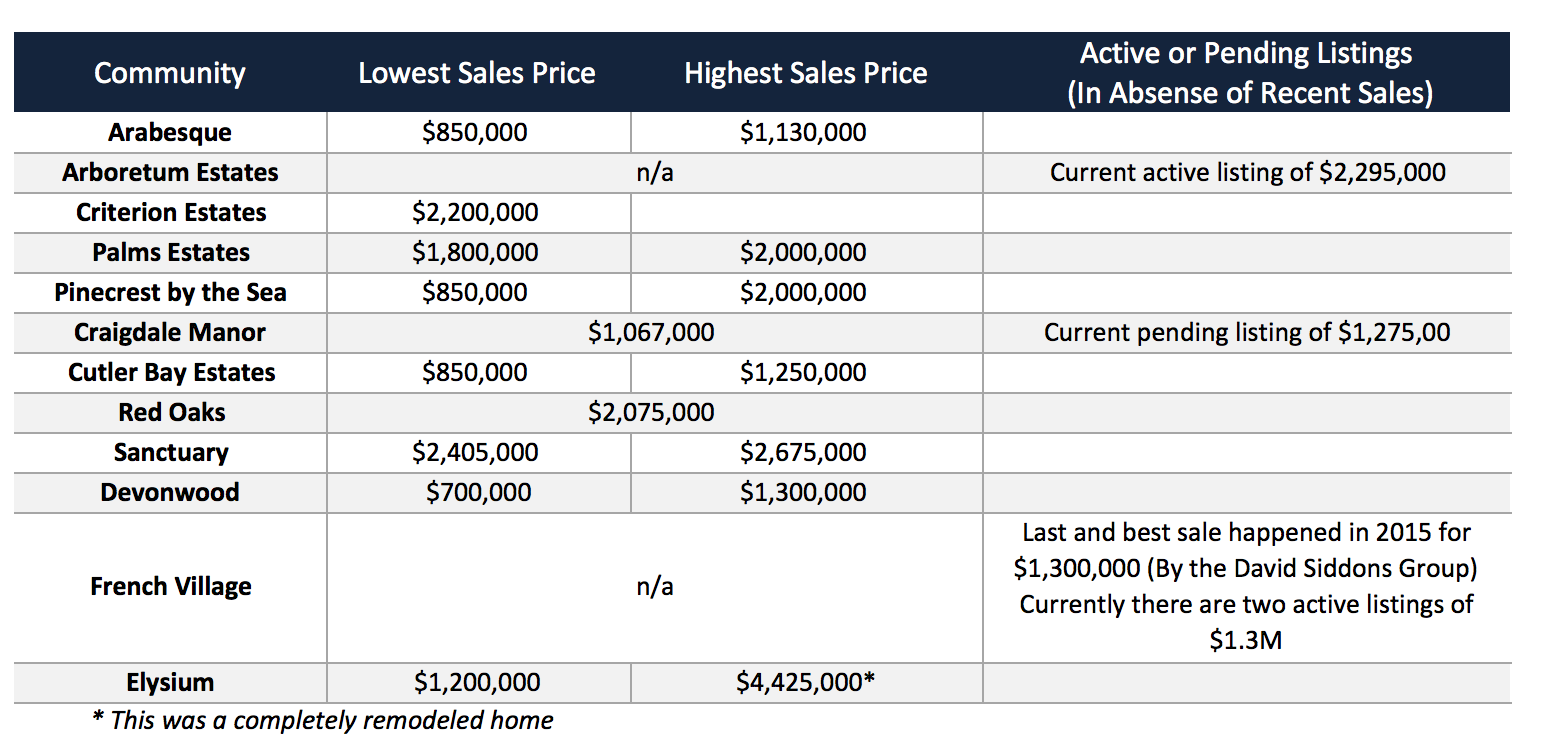 CRITERION ESTATES is a walled and gated community of 7 masterpiece homes located north of Pinecrest Gardens and Community Center on larger than 1/2 acre lots with mature trees and lush foliage. Situates on Pinecrest's premium address, each home is exquisitely appointed with style and the finest finishes, volume ceilings and gourmet kitchens.
Built between 1996 and 2001, Criterion Estates Pinecrest homes range from 5-6 bedrooms with 5,225-8,178 sf of living area and large 22,925 – 32,502 sf lots
PALMS ESTATES is a gated community with 6 homes located on a long cul-de-sac off 57th Court between 100th Street and 102nd Street. Built between 1995 and 1997 on half acre lots, Palms Estates homes in Pinecrest range from 3 to 6 bedrooms with 4,414 to 7,504 sf and inviting private pools. Homes for sale in Palms Estates are extremely rare and extremely desirable as is situates super close to Pinecrest Elementary School, one of the best public Elementary Schools in the area.
PINECREST BY THE SEA is a collection of gated communities such as Craigdale Manor, Cutler Bay Estates, Old Cutler Woods and Old Cutler Springs.  All of these communities are located on the Pinecrest side of Gables by the Sea, which is why the homes in this area are commonly referred to as Pinecrest By The Sea. The 24h manner security gate at Old Cutler and 134th street provides for direct access into this area. Many homes have been significantly remodeled or torn down to make room for new luxury contemporary homes. The community is family-oriented and has an amazing park with a childrens' play area that is always full of kids. Excellent private and public schools are located on the same street (Old Cutler Street).
CRAIGDALE MANOR has 18 homes located off Old Cutler Road and 131 Terrace and is connected to Gables by the Sea. Built between 1975 and 1997, Craigdale Manor homes range from 4-5 bedrooms with 2,941-5,294 sf of living area and 15,333 – 37,461 sf lots. The location is perfect for families that are applying to Gulliver School as it is located really close to the school.
CUTLER BAY ESTATES offers 92 homes located off Old Cutler Road and 134th Street and is also connected to Gables by The Sea. Built between 1973 and 2002, Cutler Bay Estates' homes range between 3 and 6 bedrooms with 2,511-6,091 sf of living area and large 15,004 – 39,639 sf lots. Another great option for families that have their kids in Gulliver, Alexander Montessori and Westminster.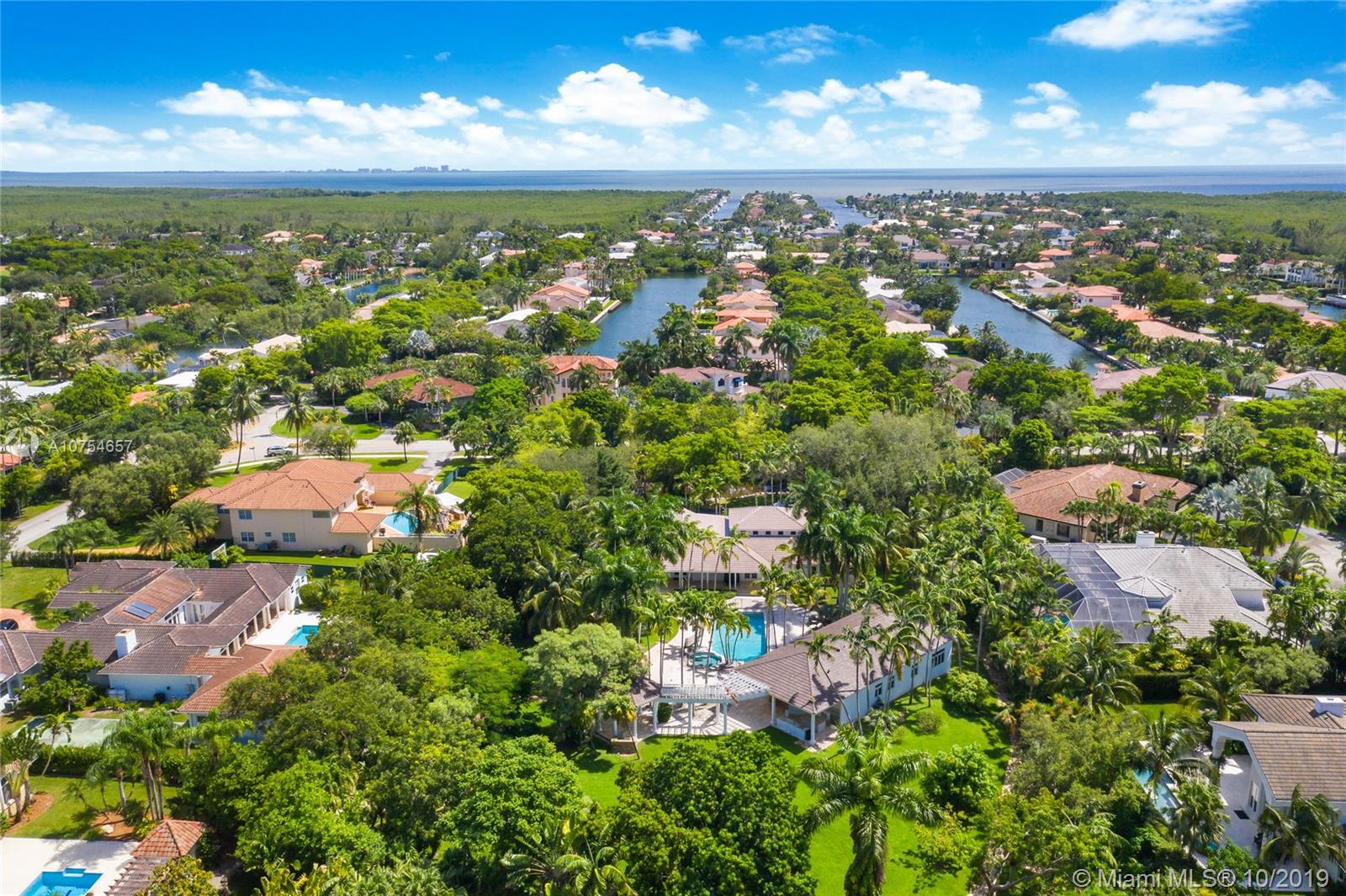 RED OAKS is a gated community with 5 exclusive homes located off 57th Place between 99th and 100th St. Built between 1999 and 2002, all homes are 2-story homes on 15,000 to 17,000 SF lots with 5,000 SF+ of  living area and luxury features including 5 or 6 bedrooms, very nice finishes, volume ceilings, elevators, impact windows and doors, 2-car garage and much more.
SANCTUARY AT PINECREST is a gated community with 12 estate homes located off 59th Court and 111th Street next to the Pinecrest Gardens and the Community Center. The Community Center has recently been remodeled and has a very nice gym, restaurant and kids play area. The homes range from 4 to 6 bedrooms  with 5,000 to 7,000 SF of living area and large lots. This place offers ultimate security, luxury and excellence from its guarded entrance and private cul-de-sac street to the beautiful designed and landscaped common areas. Homes features high volume ceilings, fire places and  top-of-the-line kitchens. This development is ideally located in the award-winning Pinecrest and Palmetto Schools Districts.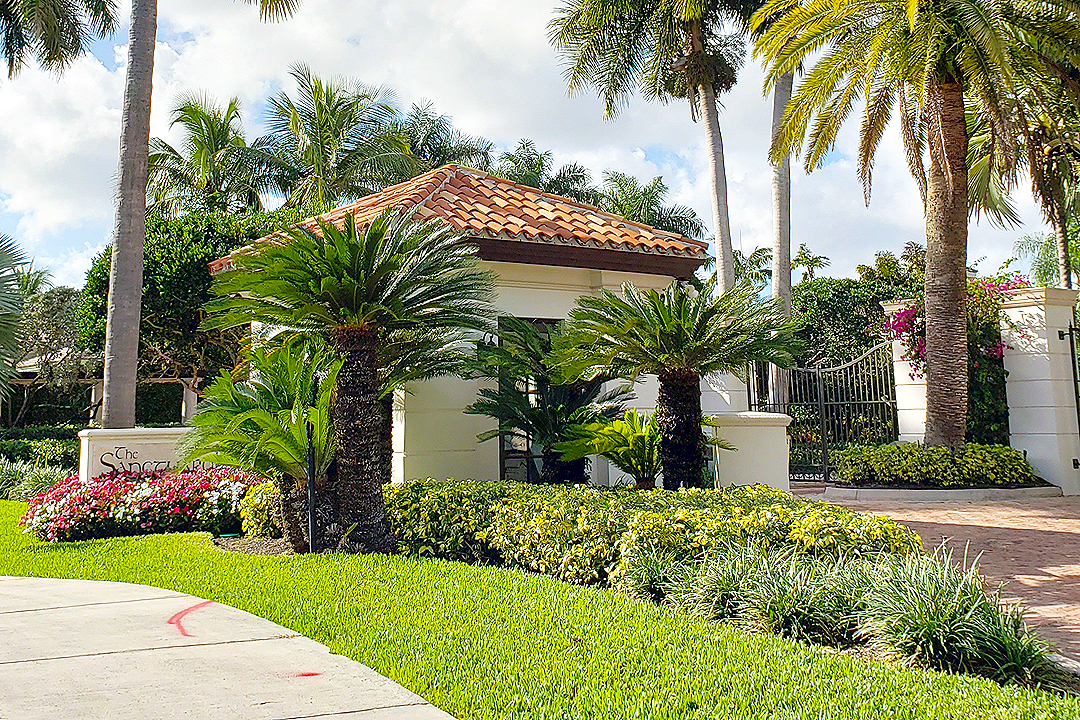 DEVONWOOD is a walled, but not gated community in Pinecrest with 77 homes located off 67th Avenue between 130th Terrace and 136 street. Known for its lush lots and unique personality, Devonwood Pinecrest homes range from 4 to 8 bedrooms with 2,177-7,300 sf of living area and large 23,000 – 40,831 sf lots.
THE FRENCH VILLAGE (townhomes) is a walled community in Pinecrest with 12 villa-style individually gated homes with five distinct floor plans including private pools. Located  off 102nd Street and 75th Place and built in 2007 by GC Homes, French Village Townhomes range from 4 to 6 bedrooms with 3,065-4,827 sf of living area with 5,000-8,000 sf lots. The elegant villas include such exquisite details such as tumbled travertine or designer marble floors, gourmet kitchens with Viking appliances and European styled cabinetry and granite counters, custom built-ins, large walk-in closets, beautiful arched impact windows. Some of the houses have fireplaces and elevators.
THE ELYSIUM is a walled community with 27 homes very well located off 112th Terrace and 57th Avenue. Known for its family friendly atmosphere, The Elysium Pinecrest homes range from 2 to 7 bedrooms with 2,360-8,144 sf of living area and large 23,958 – 62,291 sf lots.