The Ultimate Resort Style Living at Park Grove
Park Grove: The Perfect Alternative for a Single Family Home
Last week we visited the Park Grove project in Coconut Grove. The project is in its final stages with projected deliveries in March '18 and June '18 for respectively towers 3 and 2, while tower 1 is expected in 2019.  The amenities are taking shape and we got to see the latest developments during our tour. It does not happen often (if ever) that we visit a project where the actual product looks better than the renderings. The amenities and finishes at Park Grove are truly a dream allowing for resort style living.
The 5,2 Acres of Amenities at Park Grove
Park Grove offers the ultimate lifestyle
Park Grove offers approximately 270 units divided over three towers Tower 1 (70), Tower 2 (73) and Tower 3 (around 110) on 5.2 acres.  You can imagine this provides for a low density building. The amenities are on the ground floor, which is elevated above sea level providing for amazing bayviews. The Park Grove amenities are ideal for those looking for the ultimate lifestyle for which leaving the premisses in not even necessary. Park Grove provides for a resort style pool with superb views, a kids room with an on-site nanny, a private screening room/theater (the size of an actual cinema), a private Michael Schwartz restaurant just for residents and a gym and a full service spa.
Replacing your single-family home
If ever I had to leave my home, this would be the place I would choose! This project really replaces a home and is ideal to be pampered. The units are expansive with lots of natural light (Mostly tower 1 and 2) and with 5,2 acres of lush landscaping and so many low density amenities who still needs a home? This building in the ultimate condo experience for those who want privacy and the best of the best amenities. When u are used to a home and lots of outside and inside space this is a perfect condo for you. This is where u won't feel crowded and what is what  luxury feels like.
More Videos of Park Grove in Coconut Grove
Why are the wealthiest families in the USA looking to buy into Coconut Grove?
Coconut Grove, Park Grove and the Marina
The Kitchen Finishes at Park Grove
David Siddons on the Park Grove Project
Please fill in your details and David Siddons will contact you
Get our

Newsletter

No Thanks
Get the latest news from Miami Real Estate News
Email to a Friend
Recomend this to a friend, just enter their email below.
Your email was sent succesfully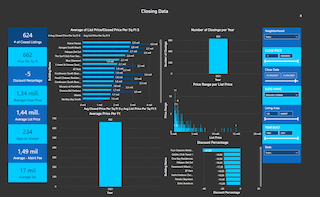 COMPARE WITH CONDOGEEKS