The True Investment Value of Eighty Seven Park, Miami Beach
The Investment Value of Eighty Seven Park – A Price Comparison
The below blog was written in 2016. Now in 2022 we can look back and indeed confirm the investment value of Eighty Seven Park in Miami Beach. Please look at the performance of this condo year over year. The data are taken from our condo analytics tool "Condo Geeks".
Please call the David Siddons Group at 305.508.0899 for more information about Eighty Seven Park. We just represented the buyers in the record breaking deal of unit 602 and we represent the buyer in the pending sale of unit 1102 (Last asking $24M).
Eighty Seven Park (87 Park) is a brand new condo in Miami Beach, which is currently under construction. The condo recently started selling and received a lot of media attention because one of New York city's (or even the country's) most successful brokers bought a unit at 87 Park.
The David Siddons Group sees Eighty Seven Park as one of the best new Miami condos as this unique project offers great value.
How unique is Eighty Seven Park (87 Park)?
It is hard to stand out in Miami's ultra-luxury condo market where one project is more opulent than the next one, but we recognize a great development when we see one.
There are several factors that make Eighty Seven Park (87 Park) a unique and valuable property:
87 Park is an oceanfront development by Pritzker award-winning architect Renzo Piano, which offers only 70 residences on 18 floors with private elevator access. Residences range in size from one to five bedrooms (1,018 Sq.Ft to 4,140 Sq.Ft) with expansive terraces. The oceanfront residences are designed to seamlessly embrace park and ocean. The grounds are surrounded by lush, green areas consisting of the redesigned 35-acre North Shore Park to the south and a private garden, designed by renowned landscape architect West 8 for residents to the north.
Located at the gateway to Miami Beach, close to Bal Harbour shopping and Miami's most exclusive district, Indian Creek, Eighty Seven Park offers unobstructed views of park and ocean in addition to views of Biscayne Bay and the Miami Skyline.
Comparing Eighty Seven Park with other high-end condo units in Miami Beach
Eighty Seven Park units are listing between $2,572 and $3,086 per Sq.Ft. We selected a few comparable sales in existing high-end buildings, for you to compare.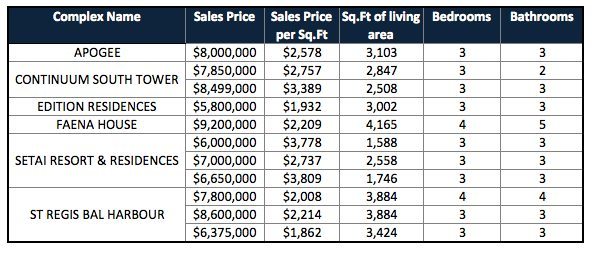 Comparable units that sold in the last year (With direct ocean views)
The comparables are units at Setai, the Edition, Faena House, St Regis, Apogee and Continuum. Pictured on the right is Faena House (Rendering) in Miami Beach.
All of the above-mentioned comparables are located in the more crowded areas, close to Miami Beach's sizzling nightlife and restaurants. 87 Park is more secluded and more private yet the busy core of Miami Beach is within 10 minutes of driving. Whether this is an advantage or a disadvantage depends on your own personal taste.
With the exception of Apogee and Faena House (respectively 67 and 68 units), most comparable condominiums have more than 70 residences and therefore are less private. The Edition Residences have only 26 units but they share facilities with the numerous hotel guests. The same goes for the Setai residences and the St Regis residences, they do have to share most amenities with the hotel guests.
Comparing Eighty Seven Park with other pre-construction condos
Miami Beach has seen a lot of new pre-construction condos, especially in the South Beach area. These ultra-luxurious new condos are not always located on an oceanfront lot and therefore don't always provide unobstructed ocean views (many of these new condos are low rise buildings).
We decided to compare Eighty Seven Park with projects that offer the same unique aspect as 87 Park; Ocean views with a private park attached.
For more information on Eighty Seven Park or any other Miami condo please contact me for a more personal and in-depth chat.
Please fill in your details and David Siddons will contact you
Get our

Newsletter

No Thanks
Get the latest news from Miami Real Estate News
Email to a Friend
Recomend this to a friend, just enter their email below.
Your email was sent succesfully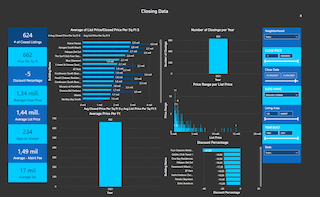 COMPARE WITH CONDOGEEKS

Meet our Team