The Top Reasons your Miami Real Estate Does not Sell
The 4 Main Reasons Your Miami Home Won't Sell
For most home owners it is essential that their property sells fast. They need the funds to invest in a new home or to pay off a prior mortgage. We get many calls from sellers that have listed their property for a few months and nothing has happened so they want a brand new agent to reassess the situation. They have not seen any movement and are wondering why their Miami property is not selling. We very often sell these properties in a short period of time and we wanted to share our strategy with our readers.
The most common reasons a property does not sell:
The listing agent is not marketing the property as it should be marketed

The property is priced too high

The market status is a buyers market, which favors the buyers over the sellers

(Condos Only) The property is subject to bad condo management or delinquent owners
Does your Miami property get enough exposure and professional marketing?
There are 1000's of agents in Miami. Many agents have obtained their license to earn an extra income apart from their day job. They might sell one or two properties per year, but they do not have the same outreach as the top agents have. They do not have a database that extends further than their family and friends and their marketing consists of entering the listing in the MLS system and maybe on their Facebook accounts. Many agents take listing pictures with their cell phones and listing videos are not even considered. They wont have a high-traffic website, a database of 1000's of agents in Miami, NYC, Istanbul and London or ready-to-go clients in many areas, ready to make an offer whenever a good deal comes along.
A seller should always be careful with how and how often his/her listing is shown to the outside world.
Make sure your listing agent provides you with the best marketing and outreach such as a professional listing video
Is your Miami property priced at market value?
The price is a difficult topic to discuss with many sellers. However a good agent should not be afraid to tell a seller about the true market value. Of course many sellers want to test the market and we value their opinions and the fact they want to get a peace of mind. But we also let them know at what price we expect their property to sell. We always show our sellers the market numbers; the sales prices of comparable units and the current listings that compete with the subject property. We believe in educating our sellers by showing them the numbers yet we also appreciate that you want to test the waters first. A good broker will check the listing's competition every month to see whether the listing is still competitive. Always remember that pricing your unit right the first time is very important as units that have been on the market for a long time already are often overlooked. And always remember, if your unit sells fast this does not mean it was priced too low, it means it was priced well!
Ensure your listing agent knows the market, can tell you about the market and can defend your listing price against other agents
Is your condo building attractive enough to buy into?
An oversupply in a certain condo is often an issue. Specifically in condos that see a large amount of investors (rather than end-users) we notice that when the building is finished many units are being brought to market in a small period of time. An oversupply in a condo does not reflect well upon a condo and provides the buyer with an abundance of choices which will create a downwards price spiral. In these cases sellers are forced to price their units very attractively in order to sell.
Another reason your Miami condo will not sell are the maintenance costs being too high. Buyers often want to see a better price to offset these costs, you might also provide the buyer with another incentive such as covering the first 12 months of maintenance fees.
Two other reasons why buyers may stay away (and which are out of your control) are lawsuits in your building or owners who are delinquent on the maintenance fees. Even though this has nothing to do with your condo uni,t it is a reason for buyers to not build into the condo. A very unfortunate situation, which will have to be offset by a lower listing price to keep buyers interested or by holding onto your unit till a later time when issues might be resolved.
Is the housing market in your favor?
You might be listing in a buyer's market (a market in which the buyers have an advantage as there is more supply than demand). An oversupply of certain homes or condos in the market is not working in the sellers favor. The same goes for owners of standard units, units that do not stand out in the crowd in a heavy competitive market. If most properties in the street or the building sell for $500 per SF, but your unit is not up to the same standards you will have to lower your price.
Please fill in your details and David Siddons will contact you

Subscribe!
Get uninterrupted access to our entire articles and blogs database.
Get our

Newsletter

No Thanks
Get the latest news from Miami Real Estate News
Email to a Friend
Recomend this to a friend, just enter their email below.
Your email was sent successfully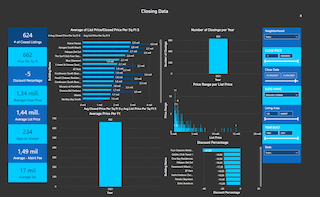 COMPARE WITH CONDOGEEKS

Meet our Team