The Pinecrest Rental Market in 2019
The Pinecrest Rental Market – Trends and Opportunities
In 2018, Pinecrest had 109 properties rented. The most desirable kind of homes (with 43% of rental market share) are 4 bedroom homes with 2 or more bathrooms, preferably unfurnished. This trend is in line with the size of families that look and live in the area; based on the last (2010) census, Pinecrest has an average of 3 kids per family.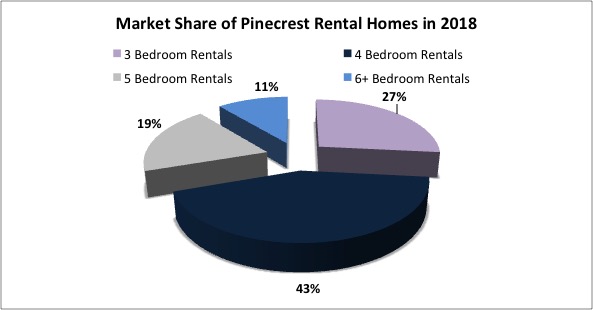 Pinecrest Rental Prices
The most expensive rental in the last year was $23,000 per month for a 7 bedroom, single-family home and more than 7,000 SqFt of adjusted area. The rental price for a 4 bedroom home ranges from $1,900 to $9,000 per month.  The price range is quite wide, as Pinecrest rentals range from older, dated homes to amazingly updated homes sitting on huge lots with plenty of space for a playground, tennis court, basketball court and other aspects valued by large families.
Opportunities and Trends in the Pinecrest Rental Market
There is a high demand for Pinecrest rentals, because homes are large and the area hosts an A-rated public school and is close to several top rated private schools. Pinecrest is a primary residential market, with most home buyers living in the house all year round. Pinecrest is not known as an investor-type of area for rentals (Investors mostly renovate and flip), which results in low inventory in the rental market. On the other hand, we are experiencing a high amount of families relocating into the Pinecrest area and most families tend to rent in their first year.  Demand for Pinecrest homes for rent (specially 4 bedrooms) is high and supply is limited. We therefore anticipate a rise in rental prices in 2019.
This trend is now attracting investors into the area, the most interesting range for those investors is the mid-market of homes between $1M and $1.5M, which gets 6% of annual returns on the rental market
Many investors in the Pinecrest area, are uniquely interested in building or remodeling a single-family home to sell it right after. It is really hard to find new construction homes or updated homes for rent, which presents a good niche market for savvy investors. With many families looking for modern homes, this might be a great opportunity to invest in modern and large rental properties.
Another important point attracting investors to the area are the benefits from the 1031exchange, which allows an investor to sell a property, to reinvest the proceeds in a new property and to defer all capital gain taxes. According to a lot of studies the hottest areas for renters right now are: Brickell, Downtown and Midtown where we can see an oversupply of unsold condos and a growing number of new construction leading to reduced prices. This however does not apply when you have a large family looking to live close to great schools. Pinecrest is a hot rental market and based on our 2019 forecast models, the rental market in the area is about to see an increase in rental prices as the inventory is really low and many families are looking to relocate to a great school district.