The Miami Rental Market and Its Sustainability
Introduction to our Brickell and Downtown Miami Rental Market Report
The 2022 Miami Rental Market Report. As Miami continues to headline as the highest city in the nation for rental rates, we have designed a data-driven rental report that will breakdown exactly why Miami ranks as #1 city for highest rents, the profile(s) of the renters, the sustainability of the rental and resale market, the right timing to buy and sell in the condo market and how you can take advantage from your current position.
Whether you are a seller, buyer, renter, or investor this report will serve as a guide to you. We are going to focus on the main condo sub-markets along the Urban Core including: Brickell, Brickell Key, Downtown Miami and Edgewater. Then we will get even more granular within the respective sub-markets and categorize the buildings that are generally more saturated with renters versus of primary or secondary homeowners.
As always, for a personalized approach, contact our group to guide you through this ever-evolving market.
The Current State of the Miami Rental Market
It's no secret that Miami has quickly become one of the most expensive cities in the United States for renters. We are going to share some of the reasons why the rental rates have significantly increased and who/what is fueling this pent-up demand. We have personally dealt with a number of clients that are willing to pay rent starting from $6,000 to $40,000 versus purchasing a their own home.
As always, for a personalized approach, contact our group to guide you through this ever-evolving market.
Who is Renting in Miami?
There is a significant amount of professional individuals that are relocating to Miami that work in the finance and technology sectors. As of Q2 2022, there were more than 40 new-to-market firms that have publicly announced their expansion to Miami. Some of these are major market movers like Citadel, where employees were requesting the firm to move forward with the expansion to Miami.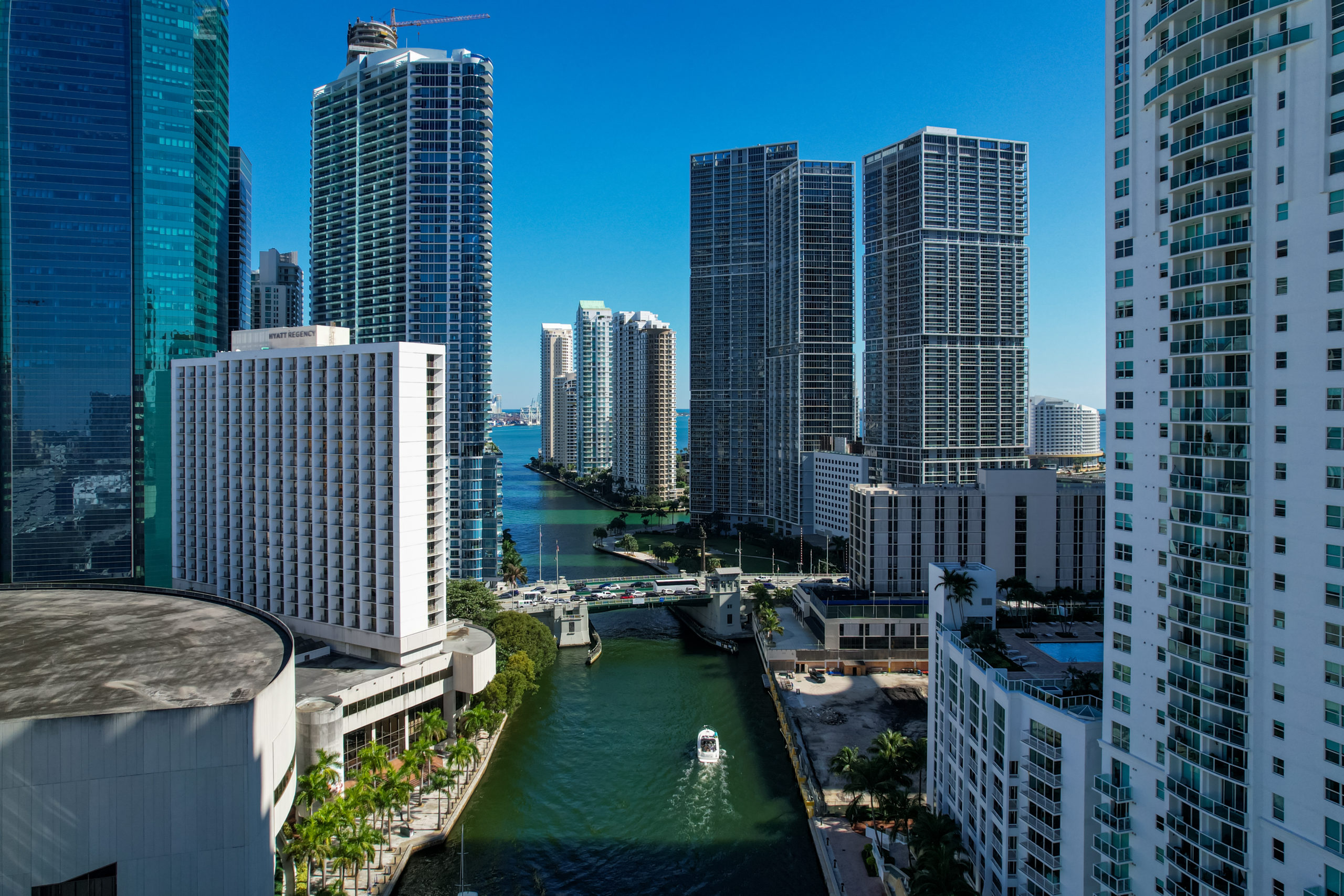 Why are they renting in Miami?
Many of these professionals are able to work from home, adapt a hybrid work model (couple days a week in-person and at home), or work from their new Miami office. As we come out of the pandemic, we have noticed a fundamental shift in consumer behavior in the case that renters and buyers are prioritizing their overall quality of life and choosing what works best for them, even if it comes at a premium price. Now, why would they rent? Many are able to have Miami as their base and still manage to enjoy their bicoastal lifestyle.
But it's not just professionals that have pushed up the rental rates, families that were striving to secure a home or a condo and got out-bid are also resorting to renting. We had a family that was renting in Brickell and needed a third bedroom since the pair worked from home and had a young baby. As we progressed on the home search, they quickly noticed that a million dollars could not get you much in Coconut Grove, which is where they wanted to be. They quickly came to the conclusion that a million dollars in today's market would be a downgrade compared to what $10K could get you by renting. Although they ended up renting the unit, they were much happier temporarily living in a place that had a market evaluation of 2M versus owning something they would need to significantly compromise on.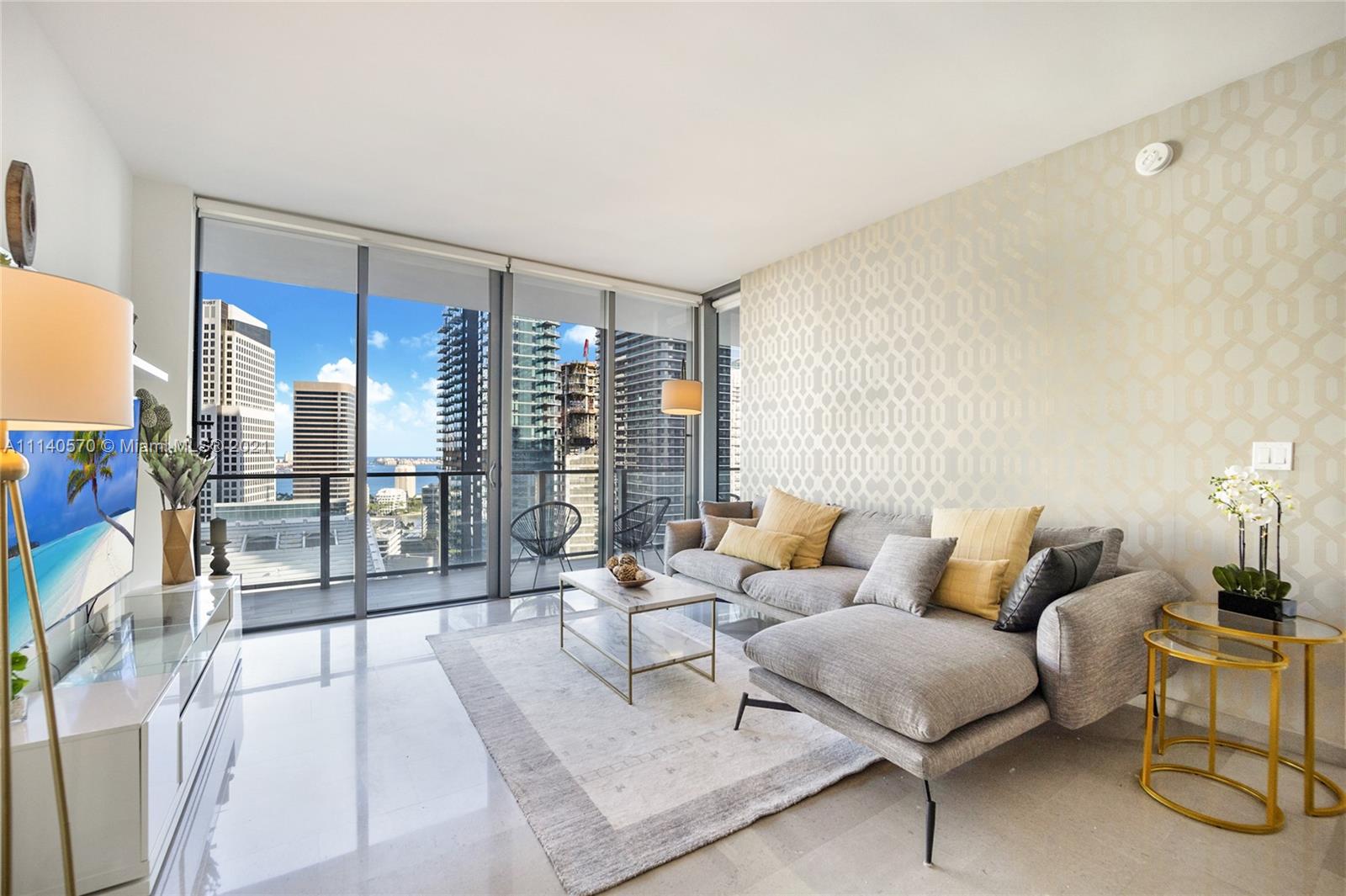 Rise at Brickell City Centre, we had relocating clients rent this fully-furnished for $6,900/M
The Sustainability of the Miami Rental Market
The condo market is naturally quite cyclical which, in return, can cause the rental and resale rates to vary. As we come out of a bullish 2021, 2022 has a significant standard to meet. The nation as a whole is experiencing the shift in the micro and macro economy in conjunction with the geopolitical tension, which creates a different arena than last year. Regardless if interest rates and inflation forecasts continue to rise, South Florida is arguably one of the most attractive destinations in the world and we are going to mention a few reasons why it will continue to hold a competitive advantage against the other cities.
There is still a deficit in condo and single-family home supply, which means those who are not willing and able to pay a premium in today's market are either forced to compromise on the home search or temporarily rent. The Brickell condo market is currently experiencing about 3 months of supply. As interest rates continue to rise, we can expect the months of supply to also increase, as the absorption will weaken as we progress through the second half of the year, which could restore a bit of the buying power.
Should you buy in today's condo market?
The buying power in the condo market has shifted in your favor. We are seeing various signs of a correcting condo market such as: price reductions, financing leniency, and longer days on the market, which allow sellers to be more receptive of offers. Now, this doesn't necessarily mean that this we are in a buyer's market, as there is still significant demand with limited supply, but it does mean that buyers have more buying in their hands than they did 6 months ago.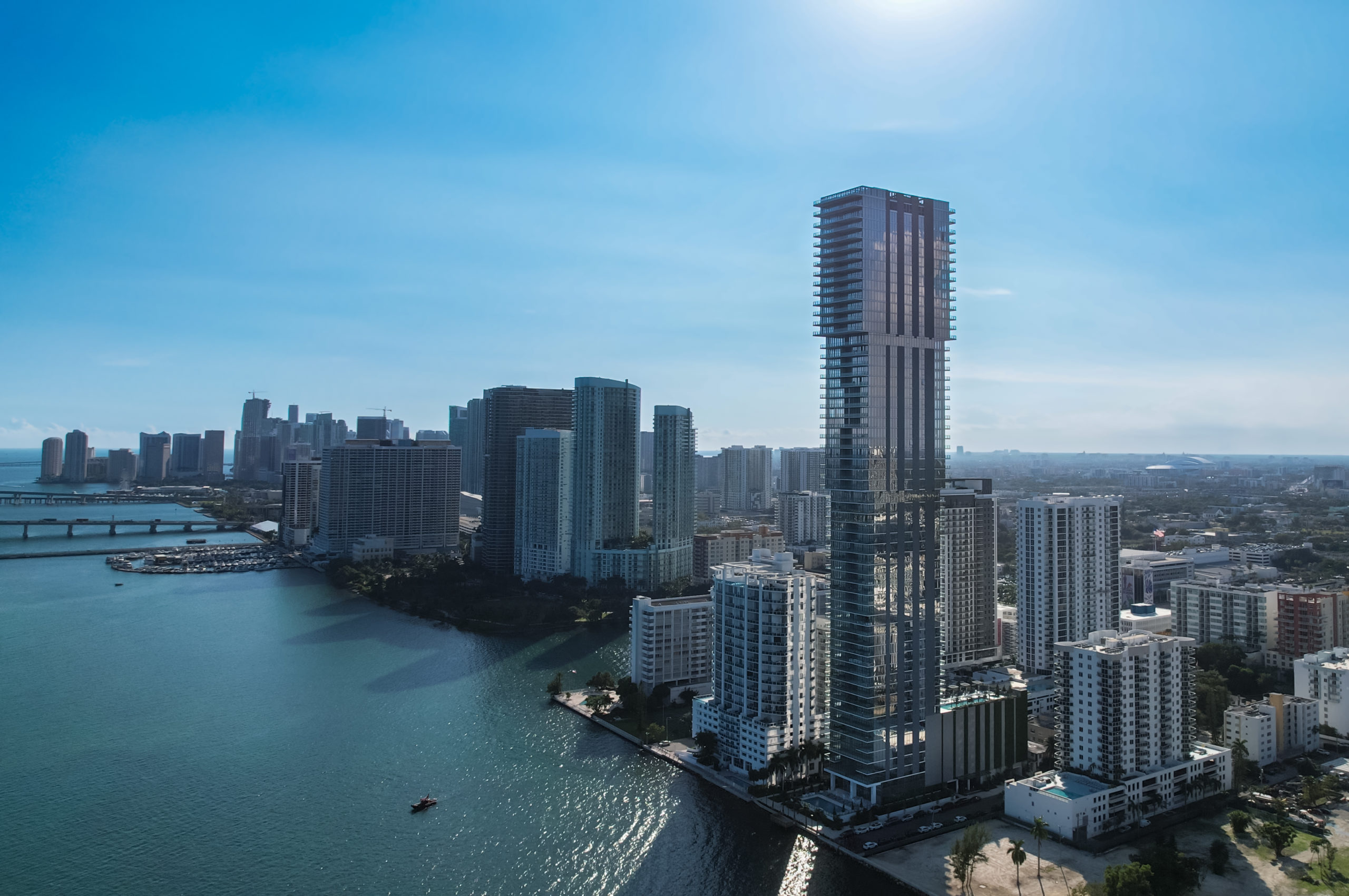 Should you sell in today's condo market?
If you are currently a condo owner in the Urban Core, we suggest you look at this forecast along with our market reports to better determine whether, or not, you will hold enough leverage in the future condo market. There are a significant amount of pre-construction condo projects and apartment buildings that are in the pipeline all across the Urban Core. That being said, if you currently hold a low or middle-tier product, your time is limited as the influx of condo supply will naturally satisfy the pent-up demand and potentially saturate the market, if you are not in the right position.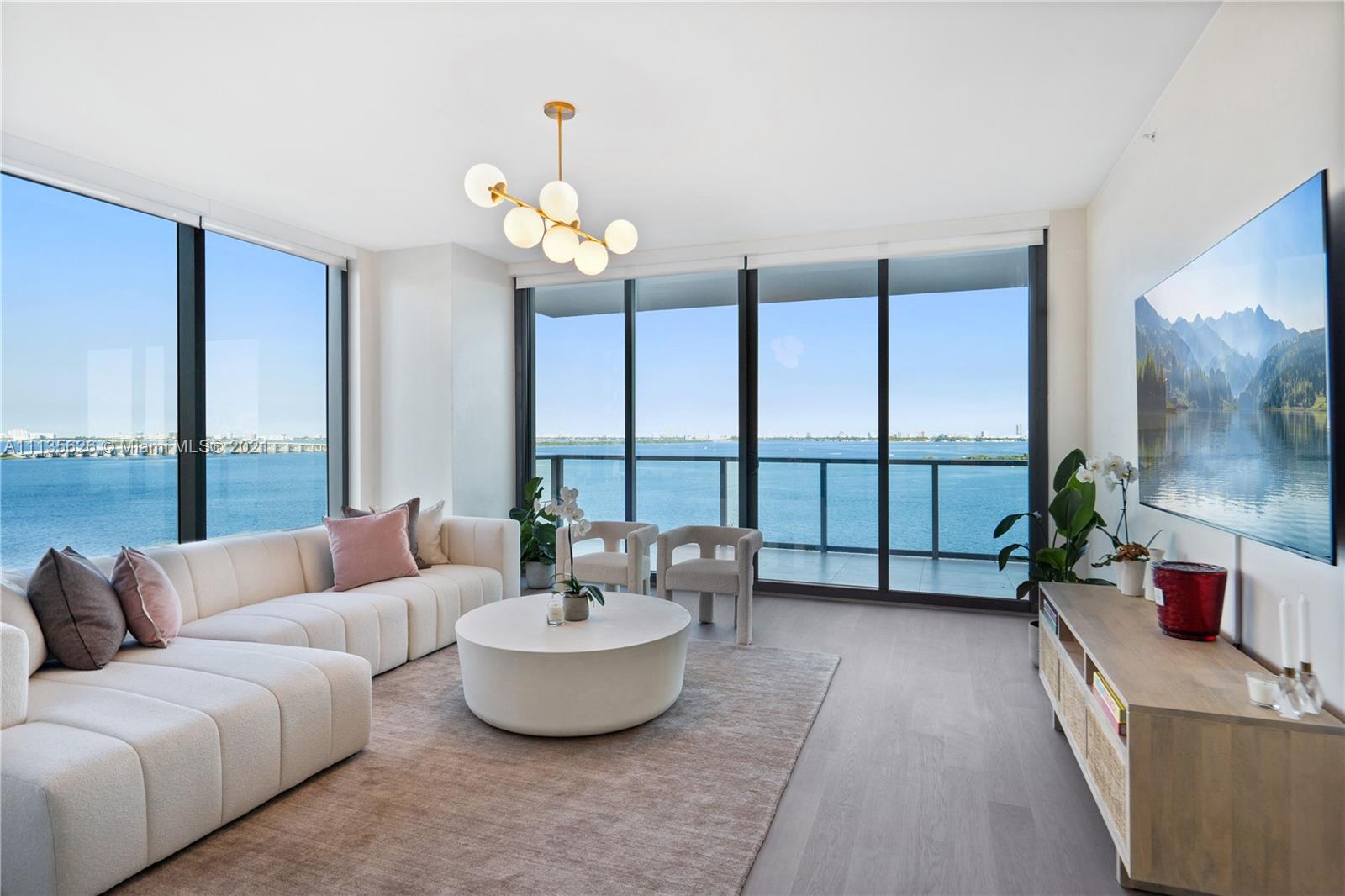 We recently sold unit 802 at Elysee due to pre-construction project that is soon going to break ground next door. Edgewater has more than 12 pre-construction projects in the pipeline that will introduce more than 6,000 units to the sub-market.
We are constantly having conversations with condo owners that are still waiting to sell their unit thinking that their unit will be able to significantly appreciate in 2 to 3 years, when in reality, there are certain buildings that have reached their peak.
Buildings with Highest and Lowest Renter Concentration in the Urban Core
We have created a preliminary breakdown of specific buildings throughout the Urban Core that hold the highest and lowest concentration of renters. Buildings that generally have a higher concentration of renters tend to be more volatile as the rental rates will fluctuate with time (supply and demand). Investors generally sell their units faster than primary homeowners and, at times, at a discount especially when the market begins to correct. Along with the investor behavior, buildings that have a short-term rental policy usually manifest a more transient environment with the constant turnover. Through our constant study of market trends, we are yet to see short-term buildings as a sustainable variable for asset appreciation. The charts below will demonstrate which buildings hold the heaviest concentration of renters; keep in mind that the incoming influx of condo and apartment inventory will shake up the existing inventory. If you are a condo owner, you want to make sure the value of your condo is intact by using your competitive advantage.
If your condo falls into low or middle-tier product, then you might want to proceed with caution you might want to reconsider your next move as this situation will cause the most volatility in rental price, and if your condo is low or middle-tier product, then the value could also be hindered. We generally suggest staying away from short-term rental buildings, and in the case that you are considering a purchase as a sole investment to contact our group for the best condos for sale and rental yields.
Brickell and Brickell Key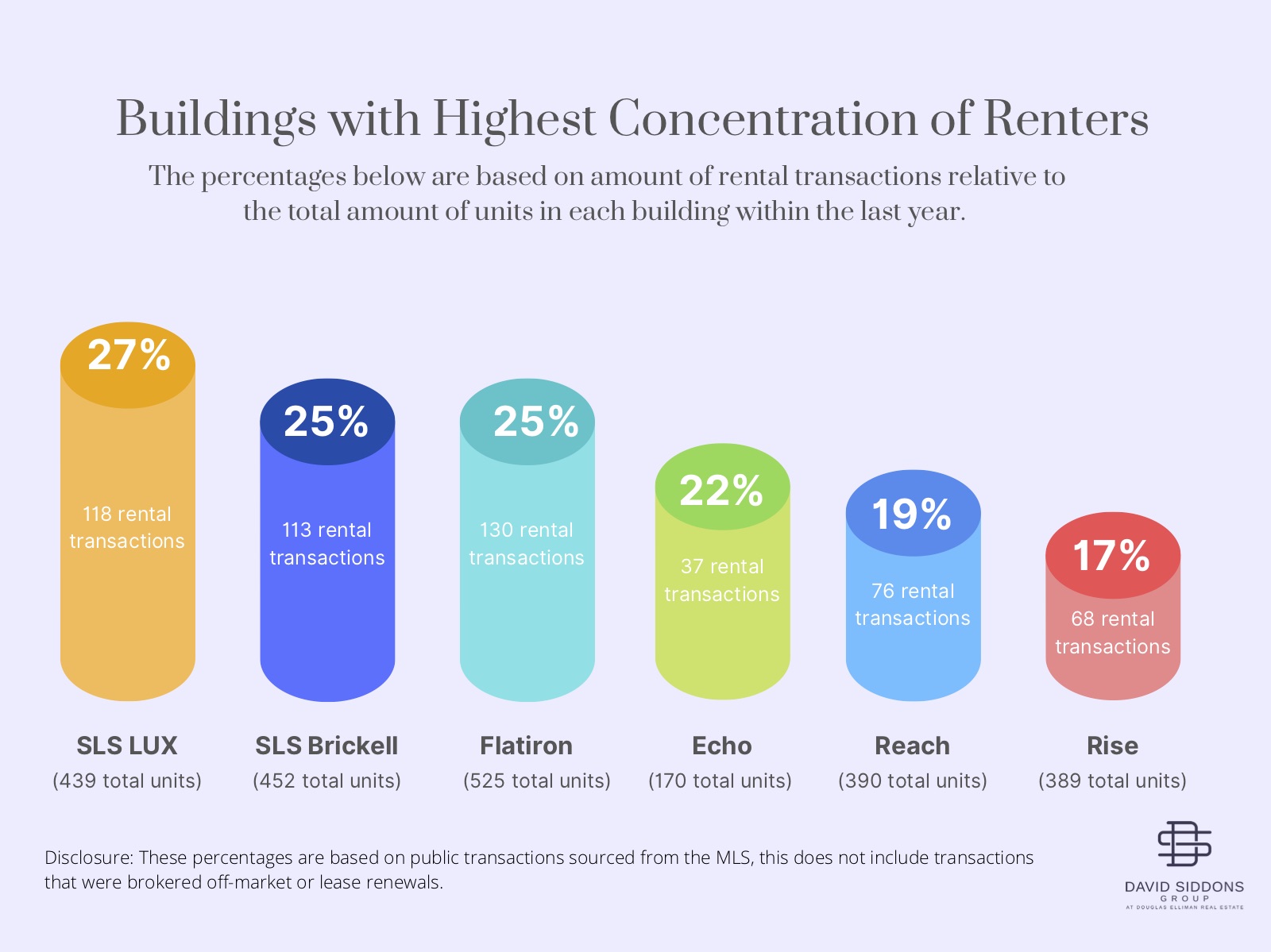 As we can see from the graph above, the buildings with the highest concentration of renters are SLS LUX, SLS Brickell and Flatiron. Buildings that have higher rental concentration tend to be a bit more volatile in value as well as the rental rates. Also, it's important to keep in mind that Miami is continuing to grow which will mean a significant influx of condo inventory. If you currently hold a unit in one of these buildings, we recommend that you ask yourself the following questions:
How does your current rental rate compare to today's market rate?
Does your condo have a competitive advantage over the existing inventory?
Will your condo be able to hold its competitive advantage in the near future?
Jade, Santa Maria, Bristol Tower, and Four Seasons were built between 1997 and 2004 and are still some of the best performing buildings in Brickell. One of the reasons why these buildings are still some of the top contenders in today's ever-evolving market is due to the overall quality of the building including the location, finishes, management, and profile of the building. If you want a stable building with units that hold great value, these are some of the best Brickell condos.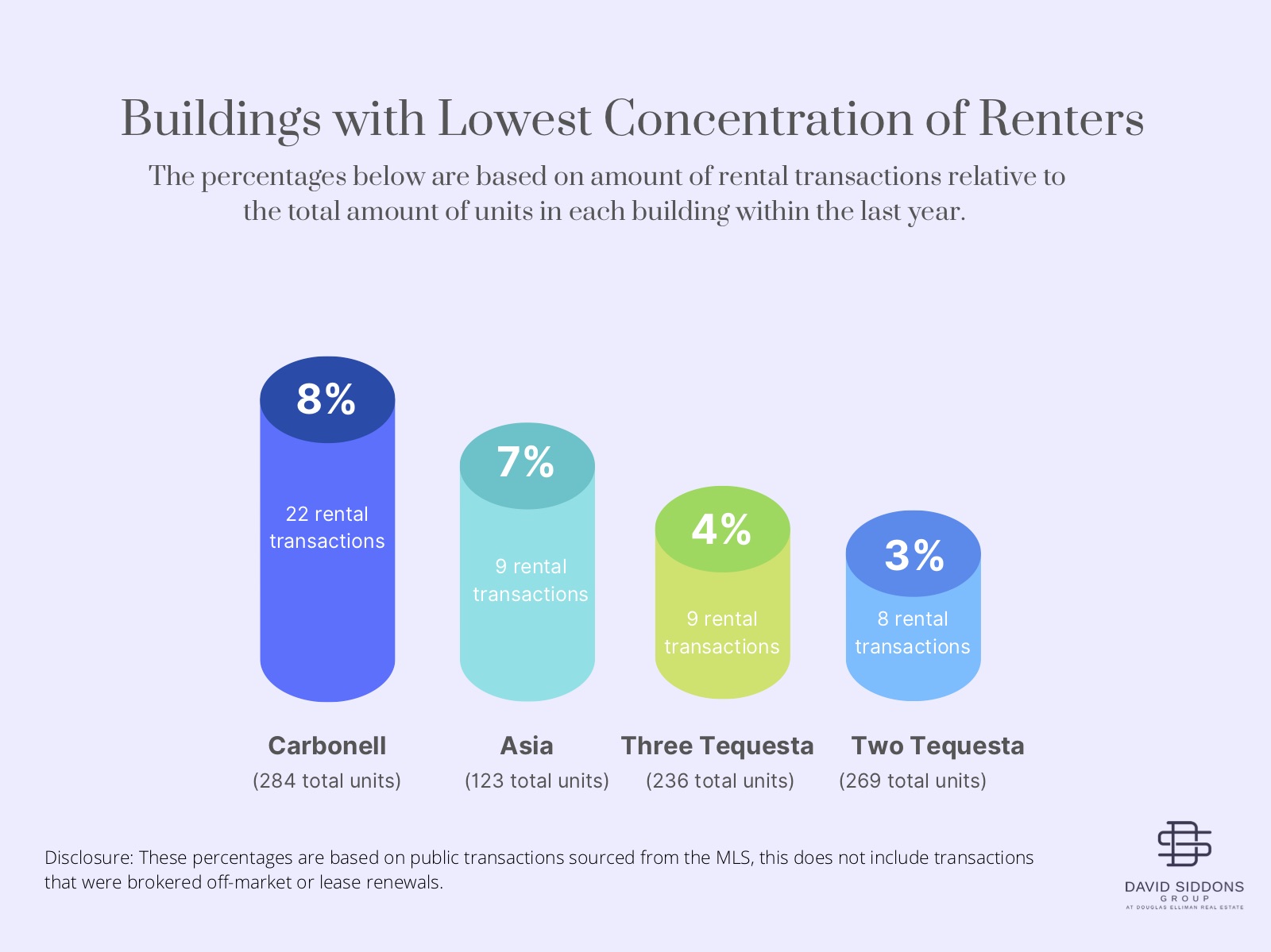 Brickell Key has 11 residential condo towers along with an office building and the Mandarin Oriental Hotel. The island is one of the best-managed sub-markets due to the overall profile of the lifestyle, given that it predominantly consists of primary and secondary homeowners. The buildings were constructed between 1982 and 2008 and still hold great value today.
As we proceed North along the Urban Core, we cross into Downtown and Edgewater. These areas are going to see the most development throughout the pipeline as the areas today are striving to improve their walkability and desirability. If you hold a unit in one of these buildings, you want to make sure that you don't fall into the low or middle-tier category as Downtown and Edgewater continue to grow in their development pipeline and will saturate the condo market if you are not careful.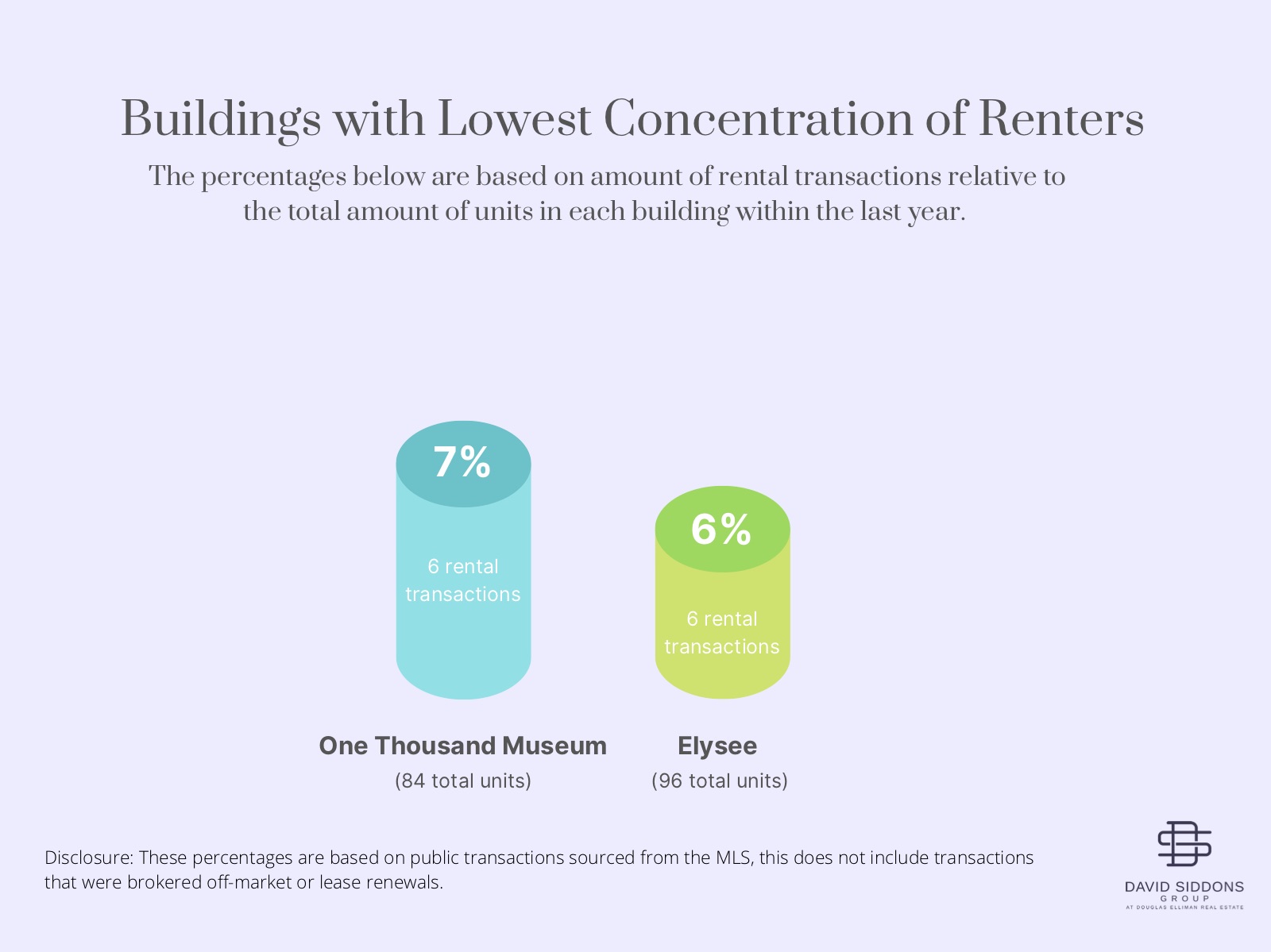 All in all, the rental market won't continue to rise at these astronomical rates forever, especially considering the influx of condo inventory coming in the upcoming years. But with the massive migration of businesses alongside the number of office towers that are in the pipeline, Brickell will continue to see demand on the rent-side as well as the buy-side.
For more information on which companies are expanding to Miami and how it could affect the Brickell condo market, stay tuned for our next report, which will dive deeper as to why this could normalize the condo market regardless of interest rates and inflation scares.
Please fill in your details and David Siddons will contact you
Get our

Newsletter

No Thanks
Get the latest news from Miami Real Estate News
Email to a Friend
Recomend this to a friend, just enter their email below.
Your email was sent succesfully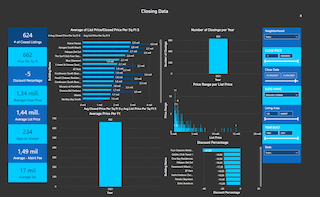 COMPARE WITH CONDOGEEKS