The Investment Value of Lighthouse Point Waterfront Homes for Sale
Lighthouse Point in South Florida is a suburb of Fort Lauderdale, located just north of Pompano Beach and Fort Lauderdale (15 min drive) and south of Boca Raton (12 min drive). This very private and exclusive community offers 5700 residences of which 80% are single-family homes. The community provides for 18 miles of waterways and therefore most of the Lighthouse Point homes are located on a waterfront lot. If you are looking for a tranquil waterfront community outside of major cities like Miami or Fort Lauderdale, this is the place to be.
The Sales Prices per SF of Lighthouse Point Waterfront Homes for Sale
Waterfront homes in Lighthouse Point are located on lots that range between 8,000 and 24,000 SF with the majority of homes sitting on a 10,000 SF/11,000 SF lot.  From Lighthouse point it will take about 15 min by boat  to reach the open waters. Lighthouse Point Waterfront homes range from $875K to $10M+.  For those looking for opportunity to build, this area still offers plenty of opportunity to buy a tear-down property and to build your dream home from the ground up. While in Miami and Fort Lauderdale waterfront lots trade for millions of dollars, Lighthouse Point still offers lots of opportunities.
The average Price per SF ranges from $477 to $813 per SF
The average sales price per SF for the $477 per SF for the sub $1M homes
The average sales price per SF for the $558 per SF for homes in the $1M-$2M range
The average sales price per SF for the $550 per SF for homes in the $2M-$3M range
The average sales price per SF for the $670 per SF for homes in the $3M-$5M range
The average sales price per SF for the $813 per SF for homes in the $5M+ range
As in every market the newer construction homes trade for the highest prices per SF.
High Demand and Limited Supply are Leading to Increasing Property Values
Since 2016 the market has increased significantly in value.  The waterfront market saw its value increase by at least 22% with the $1M-$2M market seeing an increase of no less than 44%. The Lighthouse Point market experienced a steep increase in its sales prices during the last half of 2020 and 2021, which are the years of the pandemic. The extreme demand for South Florida homes dried up the Lighthouse Point market with as a result, increasing prices.
Can prices increase even further? As mentioned before this market still offers many small waterfront homes that will trade for less than $1M. As land in South Florida's main residential areas is getting scarcer and scarcer, Lighthouse Point still offers the opportunity to buy a property for "land value" below or around the $1M mark.  Investors or end-users will see opportunity here to build their dream home from scratch. As in many of South Florida's markets these older homes will be bought up and transformed into luxurious new waterfront mansions which will increase the desirability and price levels in the area.
Please note how the inventory has dropped, especially since the start of the pandemic. With a high demand and very limited supply, prices are not likely to change any time soon unless we will experience an extreme shift on the supply or the demand side. For the moment, we still see many buyers flocking into South Florida, looking for tax advantages and a better lifestyle.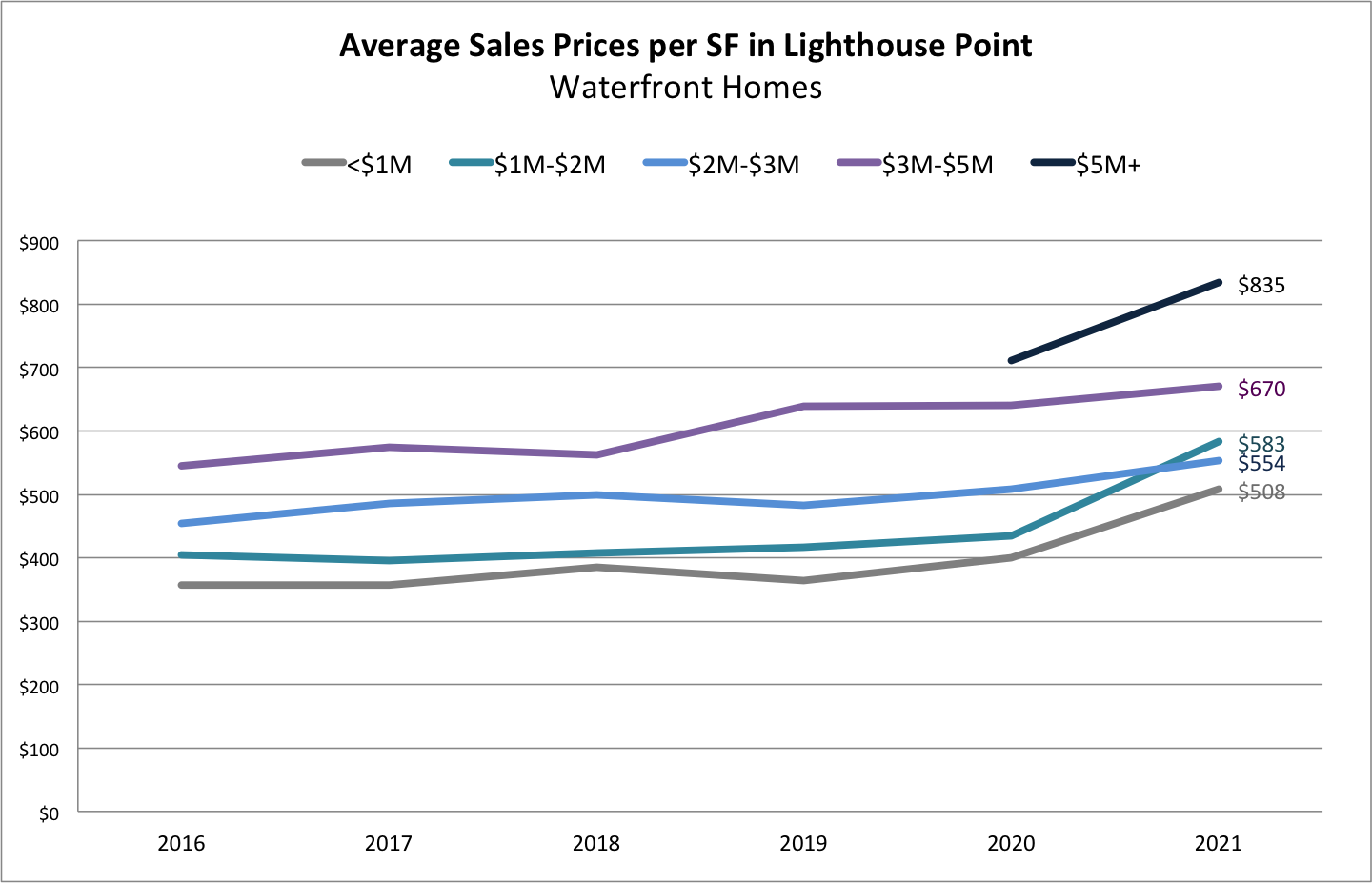 Is Lighthouse Point Florida a good place to live?
There are a lot of reasons why we love the Lighthouse Point Community.  The low-crime community offers a great lifestyle, is close to excellent private schools and last but not least, it is a very safe community.
The Lighthouse Point Lifestyle
Lighthouse Point is located at 15 min from the open ocean and is therefore very desired with boaters. The community's very own yacht club, Lighthouse Point Yacht club is held in high regard by yachtsman and boating enthusiasts. The Club's marina accommodates sport fishing craft and yachts from 30 to 120 feet with 30-, 50-, and 100-amp service on a year-round or seasonal basis. Complementing the full-service facilities is an attentive dockside staff ready to meet your power boating and sport fishing needs. Additional lifestyle options are the community's Tennis Center , which boasts 9 clay courts including 6 lighted courts for your evening tennis enjoyment, several waterfront restaurants, 20 acres of parks and mini-parks and 13 miles of sidewalks/bike paths symbolize the nature of community. If this is not enough there are several Private clubs nearby such as The Boca Raton Resort and Club, Royal Palm Yacht and Country Club and The Hillsboro Club
Safety
Lighthouse Point is also known for its extreme safety. It has its own police force that checked on your property once a day while you are away on vacation. The community also has security cameras installed at all roads in and out of the town and there is a new fire station under construction.
Schools
For families looking at Lighthouse Point it is important to mention that there are several Private Schools nearby. Some of the schools are: North Broward Preparatory School, Pine Crest School and St Andrews School.