The Brickell Condo Market in 2018 – What is the latest status of Brickell Condos?
Confidence in the Brickell condo market has taken a dive. Many potential buyers heard about the large amount of Brickell condos for sale and owners taking hits on their sales prices. Is this true? Yes, we have a high amount of inventory in this market and we have also seen owners that needed to resell with a loss. Does this mean this is a no-go market? No! Below we explain the market, what is going on and what to look for when you want to invest in Brickell.
The average prices per SF are remaining equal while some show the smallest degree of decline
The average prices per SF per price range. This should be used as a guideline for what is being paid at this moment for Brickell condos. If you are looking at a $800,000 condo that is well finished, but has no waterviews then look at this table for guidance. If the condo is asking $700 per SF you know you will be paying over market prices.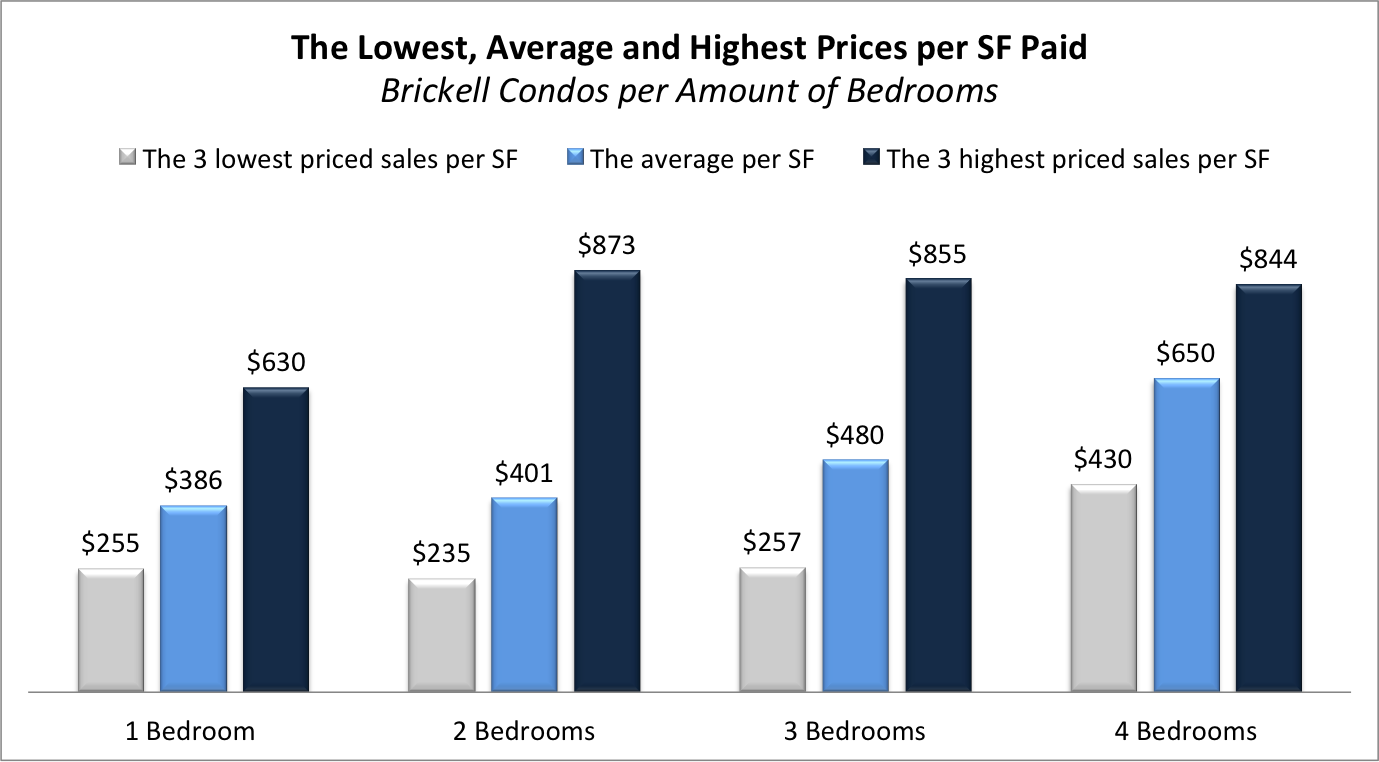 The average prices per type of Brickell condo. This should be used as a guideline for what is being paid at this moment for Brickell condos. The lowest prices are mostly the more dated condos, while the highest prices per SF are paid for condos in top buildings such as Four Seasons, Asia, Santa Maria and Carbonell. These are mostly very well finished units with superb views.
The 2018 Brickell Condo Market Situation
Owners of the brand new, generic units are suffering the most. They bought their residences at the peek of the market and are now suffering from a market with oversupply and less demand. Is there really less demand though? Brickell remains a very desired market in Miami, but buyers are simply not willing to pay top dollar anymore for mediocre units. The market was originally very desired with investors (should have been the first alarm bell) and buyers who needed to get the money out of their home countries for economic or socio-political reasons. The necessity to move their funds quickly resulted in a lack of scrutiny. As the dollar increased in value many of these buyers could not invest in Miami anymore. At the same time, products started to be delivered and were not what they were promised to be. The so-called luxury aspect was underwhelming and not what people expected. With very high prices per SF and less available yet more price-conscious buyers, sellers found it hard to offload their units for the money they had invested (meaning to sell they had to break-even or take a loss). Many sellers did not accept a loss, and their units were sitting on the market for a longer period of time, creating an even higher inventory.
To answer the question whether there are still buyers: Yes there are, but prices will need to come down. Buyers are not willing to pay top dollar anymore for units that do not offer ocean views, large balconies, high ceilings or have other special features that justify the price. The market got overheated and those who paid too high a price will now have to suffer the consequences. Brickell is getting more and more of a true city core with shopping possibilities, high-end restaurants, cinema and services. The market is ideal for young professionals or families working in the area and there is still demand for good product, but against market prices. Many owners that bought well before the 2012 construction frenzy will probably be able to sell well, with a profit. Those who bought the generic condos (especially those without waterviews) for top dollar, might have to be a bit more bearish.