The 2018 Guide for Coconut Grove Luxury Condos
The Coconut Grove luxury condo market is a very unique sub-market within Miami. While most of Miami's condo markets are seeing an enormous oversupply and decreasing prices, the Coconut Grove market seems to keep its balance. The up-scale Coconut Grove, known for its understated luxury only offers a short strip of waterfront land, which results in a limited offering of luxury condos.
To understand this niche-market one must know that the ultra-luxury condo market has just recently started to exist with developers filling this gap in the market. As many family wanted to live in upscale Coconut Grove, a few ultra-luxurious and expansive condos have been / are being constructed. While in 2013 we saw 3 condos being sold in the $3M+ range, 2017 saw 11 properties being sold.
Coconut Grove luxury condos | The Months of Inventory
The months of inventory is by far the most important indicator in real estate. While many reports focus on price levels, the months of inventory (MOI) are what drive these price levels. Understanding the months of inventory means you will be one step ahead of changes price levels. Months of inventory show you the supply and demand relationship, which is key in predicting future price changes. Most Miami condo markets see a buyers market. In a buyers market the supply side exceeds the demand, which will eventually result in decreasing prices which are needed to stabilize the market. In the last few years the Coconut Grove luxury market has been experiencing a sellers market with demand surpassing supply. With MOI below 10, the market was desperately waiting for new supply. Today the Coconut Grove luxury market is seeing inventory levels of between 20 and 25 months, which I would classify as a moderate buyers market. (As a reference most condo markets see 40 months+ of inventory)
What does sellers or buyers market mean?
A sellers market (12 or less months in the Luxury $1M+ market) means that there is more demand than supply, mostly leading to an increase in prices and providing sellers with an advantage.
A buyers market (18 or less months in the Luxury $1M+ market) means that there is more supply than demand. Prices are likely to decrease in order to absorb the supply.
A neutral market provides for a perfect balance in which neither party has an advantage and prices are likely to remain stable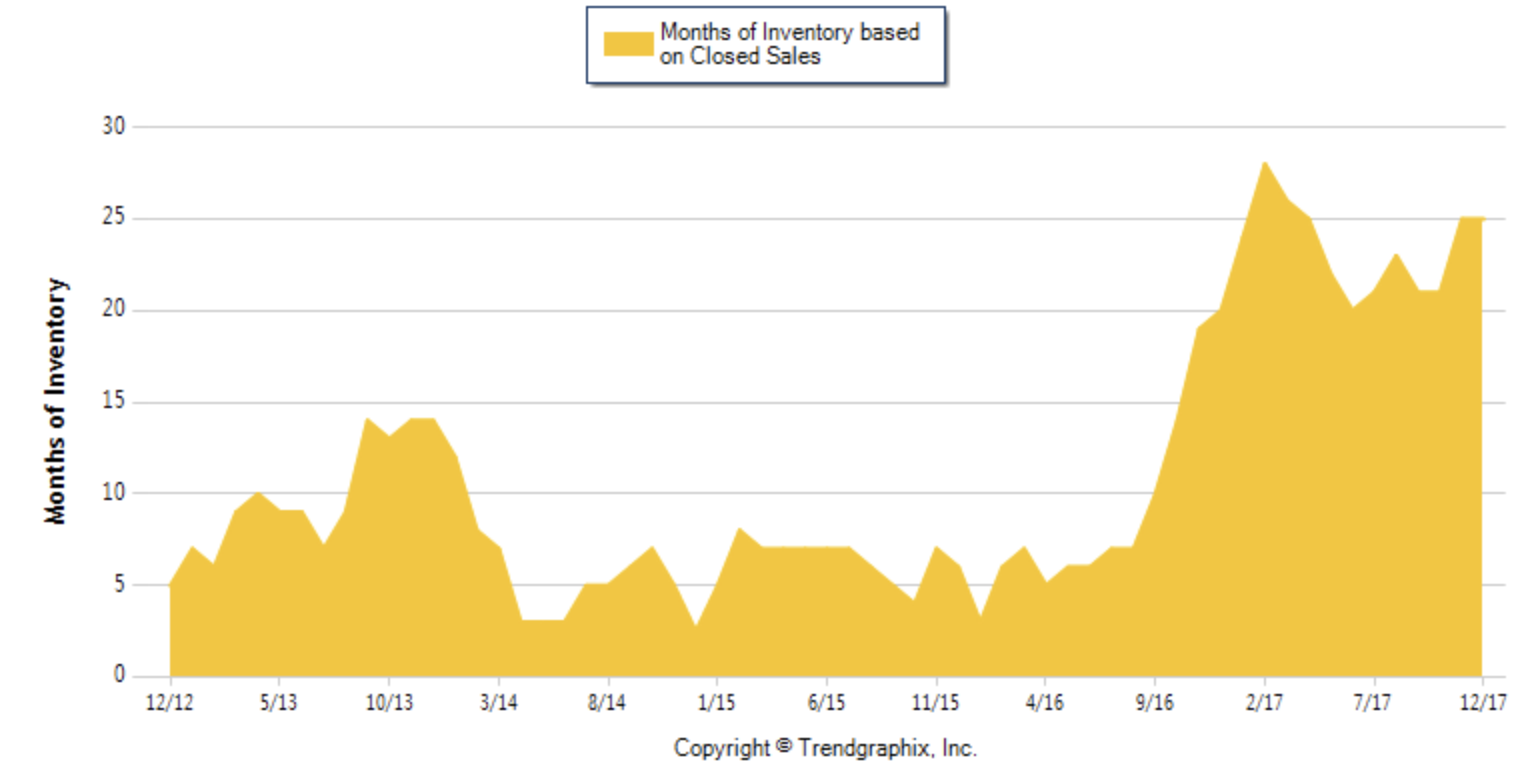 Prices per SF for Coconut Grove Luxury Condos for Sale
Prices are seeing an upward trend*. Prices increased in the last few years, because there was a lack of supply. This gap in the market was filled new condos that brought new levels of luxury to the Coconut Grove market which goes hand in hand with higher price levels.
*Please note that there are less than 10 sales per year, which makes our conclusions statistically insignificant
The Coconut Grove Luxury Condo Market in 2018
The Coconut Grove luxury condo market is a balanced market. There is demand for Coconut Grove luxury condos while construction opportunities are limited. There are a few new condo projects that are being delivered between this summer and the years to come. These will supply the market with more luxury condos, but not at the pace in which Miami Beach or Brickell have been supplied. I often hear buyers compare markets like Edgewater, Brickell or South Beach with Coconut Grove. I would like to stress that they cannot be compared. The previously mentioned markets are seeing an extreme high inventory, and many new condos here are very generic products without the water views, which were sold as luxury condos.
The demand of buyers has seen a slight decrease in general as buyers are more price conscious and less eager to "pull the trigger".  This is also due to overconfident sellers looking for record prices. With more pre-construction entering the market and less eager buyers this is not a market to phish for record prices. In 2017, there was a 20% discrepancy between the original listing price and the sales price in 2017.
We are very bullish on the Coconut Grove luxury market, but buyers and sellers still need to be cautious and not get overconfident. Especially when it comes to new construction condos be cautious that the features of the condo justify the price. Work with an experienced realtor who compares the different projects for you and who represents your best interest. If you are looking into Coconut Grove pre-construction units please contact me.  
We are here to report the facts but of course we have our personal opinion on every project, which is based of our experience and holistic knowledge of the market. If you like to hear my personal opinion about the different Coconut Grove pre-construction projects, please give me a call at +1.305.508.0899.