Pontos importantes que você precisa saber se esta pensando em se mudar para Miami!
 Entrevista com o Advogado Alexandre Piquet da Piquet Law Firm!
Entrevista com o advogado Alexandre Piquet, da Piquet Law Firm, com mais de 20 anos de experiência prestando assessoria jurídica à brasileiros e estrangeiros na mudança para os Estados Unidos, e especialidade nas área tributária, de imigração e imobiliária.
Quais os vistos mais comuns que podem ser pleiteados pelos brasileiros que querem se mudar para os Estados Unidos ?
Existem dezenas de vistos que podem ser usados e cada um deles irá atender à um propósito específico, mas é bem comum que o típico imigrante brasileiro se qualifique para pelo menos duas categorias de visto. Importante enfatizar que cada caso tem que ser avaliado individualmente de acordo com as necessidades do imigrante.
É verdade que o valor do programa EB-5 vai mudar de 500 mil dólares para 1 milhão de dólares?
O EB-5 existe desde a década de 90 e todos os anos existe uma reunião de um conselho para se definir o valor, o qual continua o mesmo desde então. Porém a cada encontro existe uma discussão que gera muita expectativa e ansiedade, incentivando os investidores que estavam prestes a tomar uma decisão a seguir em frente pelo medo do aumento do valor. Pelo menos até o final desse ano, o valor não sofrerá mudança.
Esta é uma parte de nossa entrevista com Alexandre Pique. Se você desejar assistir a entrevista na íntegra, clique no vídeo abaixo :
Quais as perguntas mais frequentes que os brasileiros trazem para o seu escritório?
A questão tributária é de extrema importância e lidamos com isso frequentemente pois os brasileiros e estrangeiros necessitam ser informados sobre como serão taxados os impostos de acordo com a sua situação imigratória. O único visto que não esta sujeito a tributação é o de estudante, que é um visto limitador pois a pessoa não pode trabalhar nem tirar social security que é o equivalente ao nosso CPF. Praticamente só pode ficar nos Estados Unidos estudando. Existe um grande número de pessoas nesta situação. Todos os outros vistos estão sujeitos a tributação global do imposto a partir de 183 dias de presença física no país ( contando os dias desse ano, 1/3 do ano passado e 1/6 do ano retrasado, o que dá uma média de 120 dias por ano.). Ao obter o Green Card, que é a residência permanente no país, automaticamente você se torna residente fiscal nos Estados Unidos.
Como se deve comprar um imóvel nos Estados Unidos quando você não é residente? Como pessoa física ou jurídica?
Sempre na pessoa jurídica por dois motivos simples : o primeiro relacionado à tributação em vida e o segundo relacionado à tributação no caso de morte. Quando você tem um imóvel em pessoa física e realiza a venda, você estará sujeito a uma retenção de 15% do valor do imóvel que se chama FIRTPA para o pagamento de impostos sobre o ganho de capital. Em caso de morte para o não residente que tem investimentos aqui, o imposto de transmissão de bens pode chegar em até 40% do valor do bem. Portanto, é muito importante ter uma assessoria jurídica e fazer a estruturação de empresas para que não haja problemas futuros.
Uma pessoa que comprou no passado em pessoa física pode transferir para pessoa jurídica?
Sim, existe um instrumento que se chama quitclaim deed que é uma transferência com custos menores de fechamento e indicamos que isso seja feito o quanto antes.
No processo da compra de um imóvel existem custos chamados Closing Costs. Você poderia explicar ?
Esses custos são equivalentes ao custo de escrituração no Brasil. No Brasil temos o ITBI e aqui são os stamps. Fora isso, existem custos específicos como por exemplo : quando você compra um imóvel na planta, o construtor pode taxar 1,75% de developer's fee. Se houver financiamento envolvido, os bancos impõem custos específicos além de Title Search e o seguro da escritura que é pago apenas uma vez e que mas em alguns casos é obrigatório. Também tem os custos de advocacia de quem esta te representando. Para se ter uma idéia geral esses custos podem variar de 1 a 4,5% do valor do imóvel.
Please fill in your details and David Siddons will contact you
Get our

Newsletter

No Thanks
Get the latest news from Miami Real Estate News
Email to a Friend
Recomend this to a friend, just enter their email below.
Your email was sent succesfully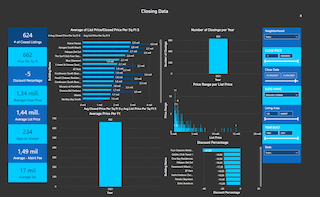 COMPARE WITH CONDOGEEKS