Pinecrest Luxury Real Estate Market Report 2018
Luxury Homes for Sale in Pinecrest | The 2018 Market Analysis
Click here to see all the other videos for our 2018 Miami Luxury Real Estate Report (Videos for Miami Beach, Brickell, Coconut Grove and Coral Gables)
A Fair Performance Due to Newly Constructed 'Smart' Properties
Even though the Pinecrest luxury market displays a rather over-saturated level of inventory (around 40 months) it has performed fairly well in terms of achieved prices in the low, mid and high-end this year. The 'general' Pinecrest market was one of the fastest appreciating luxury markets in all of Miami up to 2015. The mid and low range $ per sqft homes took a dip from mid 2015 to 2017, but for 2018 they seem to have bounced back well, which comes as somewhat of a surprise to many. The present $ per sqft sales of very high-end finished luxury homes has increased and this is in part due to a sizable number of newly constructed 'smart' modern properties getting sold and breaking records with finishes and quality.
One phenomena that I have encountered that may explain the dip of the mid and low range luxury homes in 2016 and 2017 was the introduction of more luxurious homes being built and sold in locations just north of Pinecrest in the neighborhoods of: Ponce Davis, High Pines and South Coral Gables that stole some of the would-be luxury buyers away, as their mid and low $ per sqft range homes started to look tired and less desirable than their counterparts.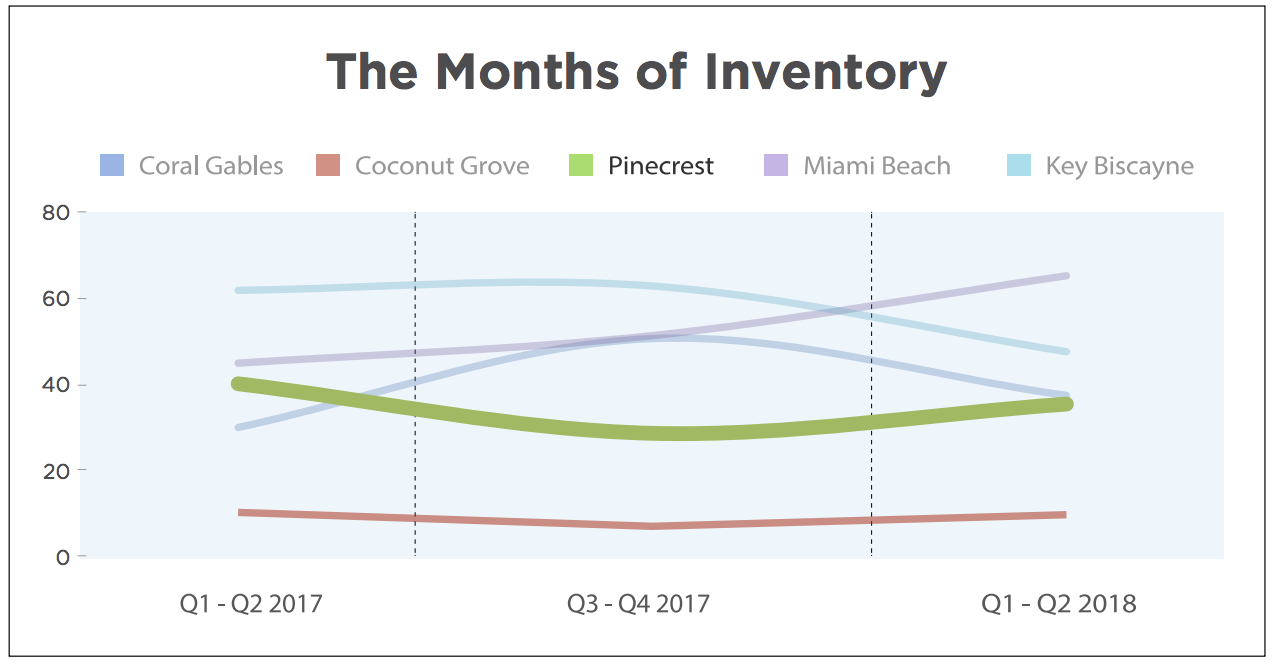 The Pinecrest Demographic
To understand the luxury market in Pinecrest is to understand its unique characteristics and the needs of the demographic who buy there. The most notable characteristic is that Pinecrest has the greatest number of large property lots. It is not unusual to find one acre lots and in many cases more. Land is also far more readily available here and with greater land you will find the bigger homes (6000 Sqft++).
With an average family size of 3.7 (last Census december 2017) the pull to schools like 'Gulliver Academy' and 'Palmer Trinity', this neighborhood will always attract a certain type of family buyer – generally a family with older children. It is not uncommon to see families migrate south once the kids reach entrance level to Gulliver or Palmer in the attempt to shorten the school commute from North Coral Gables or Coconut Grove.
Older Vs Newer Pinecrest Homes for Sale
Another revealing dynamic in our study of Pinecrest is that in 2018 we have now seen 25 sales over $3m (as of July). Only 8 of these were homes built prior to the year 2000. 1 Was a land sale, 5 were completely remodeled AND architecturally ahead of their time and the other 2 sold at a very low dollar per sqft (below $350 per sqft). A close look at what properties are for sale at the time of this report we have 75 on the market. Out of these, 18 were built prior to the year 2000 and most of them have either experienced price reductions or have been on the market for a longer than average time. The message is clear; Older homes in Pinecrest have trouble moving, unless aggressively priced.
We believe a reason for this phenomenon is that many buyers are not looking anymore for those extreme large 'formal' homes which now not only look dated outside (mediterranean is not desirable -transitional modern is), but the internal flow of these homes is also different. As mentioned before, the lifestyle choices have changed and buyers don't value luxury homes the same way they did 15 years ago. Floor plans from the early 2000's are just not appealing anymore. High tech smart homes are a must, as is the open floorpan concept. Compartmentalized, very formal is definitely out (no need for a formal dining room, home theatre room, formal living – these become wasted space and a burden to maintain). Buyers still do appreciate large lots, but function over form is key and we expect the desire for streamlined open style homes to just increase into the next few years.
Land Value of Pinecrest lands
Pinecrest lots sold between $500K and $1,5M. The highest price per SF was $36. Approximately 20 lots sold in the last 15 months. There are currently 25 lots for sale in Pinecrest. With inventory levels around 40 or 50 months, it means that under current market conditions it would take around 3 to 4 years to absorb all this supply. This is normally a sign that the market is likely to see more price adjustments. One other element worth mentioning is that construction costs are higher today than ever before so end users (not developers) are acting with more caution.