Miami Real Estate Property Value Trends 2017
What are the Miami Property Values doing in 2017?
Most people want to know what property values are doing in the time to come. Whether you own a Miami property or are looking to buy a Miami property, real estate forecasts are extremely important.
The David Siddons Group will soon launch the 2017 Miami Real Estate Report. This report covers 16 neighborhoods and 5 price ranges. For each of these sub-markets we provide you with
The average of the three lowest sales prices
The average of all the sales prices
The average of the three highest sales prices
The change in average price between 2017 and 2016
The months of inventory
Miami property value trends in 2017 – Our Report will reveal it all
If you want to know the value trends for Miami real estate in 2017 this report is definitely for you. It shows you the percentual changes in values from 2016 to 2017, together with months of inventory, which is one of the best indicators of future price movements.
To give you a good example: This report will show your that Coral Gables homes, valued between $500K and $1M are selling at average for $365 per SF. The most affordable or lesser finished homes sold for $224 per SF, while the homes with the best quality finishes or the best features sold for $531 per SF. It also shows you that these home values went up on average by 7%. The most exclusive homes in this price range even went up by 15%, meaning that buyers are willing to pay extra dollar for well finished homes in this section. Lastly, the inventory level shows 5 months, this means we are experiencing a seller's market and there is still room for prices to increase.
Why is "Months of Inventory" such an important indicator for Miami Real Estate value trends
People often uniquely look at prices and price changes. Very few people check the months of inventory in a certain market, while this is one of the best future value predictors in the real estate industry
The months of inventory are the amount of months it take to sell all the inventory if no new listings would enter the market. It indicates the relation between supply and demand.
Below 6 months of inventory: There is more demand than supply, which creates a sellers market. This market indicated that prices have room to increase in order to stabilize the market: 
Between 6 and 9 Months: A neutral or balanced market in which supply and demand is in equilibrium
Above 9 months of inventory: There is more supply than demand. We speak of a buyers market in which prices will have to come down in order to attract more demand and create balance in the market.
For the luxury market of $1M+ properties we see slightly different numbers
Buyers Market: 12 months or less

Neutral Market: 12 to 18 months

Sellers Market: 18+ months
Please fill in your details and David Siddons will contact you
Get our

Newsletter

No Thanks
Get the latest news from Miami Real Estate News
Email to a Friend
Recomend this to a friend, just enter their email below.
Your email was sent succesfully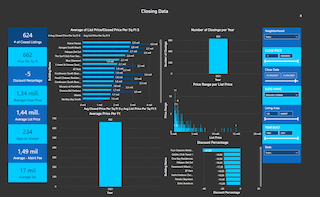 COMPARE WITH CONDOGEEKS