Miami Neighborhoods to Watch in 2017!
What is Miami's next hot neighborhood and why?
With Brickell and the Beach overbuilt, and several other hotspots becoming more and more expensive, developers are now zeroing in on under-valued neighborhoods close to the urban core. Here are a few up and coming areas that will defenitely need your close attention in 2017.
Little Haiti
The Little Haiti area will be South Florida's hottest residential neighborhood in 2017 according to a report released by real estate website Zillow. The company predicts home values in the gentrifying area north of downtown Miami will rise 4.6 percent this year. (Zillow included Little River, Buena Vista and the area around the Design District — together once known as Lemon City — in its analysis.) That's the fastest rate in Miami-Dade, Broward and Palm Beach counties.
"This could be the next Wynwood" is the mantra of many investors and home flippers crowding into Little Haiti. The average home there is valued at $191,500, up 19.6 percent over the last year, according to Zillow.
Just south of the booming neighborhood, the Archdiocese of Miami wants to sell the 15-acre campus of Archbishop Curley-Notre Dame High School in Buena Vista. Developers have also unveiled plans for large, mixed-use projects. And restaurants and commercial business are moving in, too, most recently Entercom Communications, one of the country's biggest radio broadcasters, which signed a lease in Little River.
We have noticed a true migration of wealthy families from all over Miami including Miami Beach towards the North Beach area. The area is getting more and more of a name for itself and there are ample reasons for North Beach to become Miami's next booming destination.
The area is more tranquil than any other Miami Beach areas, with fewer tourists, less crowded beaches, less traffic on the streets and generally speaking a more laid back lifestyle.
As it is less intense than South Beach, it has less bikini clad tourists roaming the streets and less noisy bars. All these aspects make it a more charming and relaxing beach town.
The North Beach area is more refined and sophisticated according to many of the new home and condo owners that decided to settle here. The zip code received a handful of brand new luxury names in the last 6 months including the high-end new luxury condo Eighty Seven Park by Renzo Piano, the Ritz Carlton Residences and the Surfclub Four Seasons Hotel and Residences.
Those looking for a tranquil residence and a safe place to raise their families do appreciate the short drive to the South Beach area for some shopping, dining or entertainment.  Besides access to Miami Beach, North Beach has fast access to the exclusive shops at Bal Harbour (Bal Harbour Shops) as well as Miami's up and coming areas such as the Design District, Wynwood and Downtown.
Nowadays, Miami is following in the footsteps of other American cities, including San Antonio, Savannah, Pittsburgh and Chicago, who have turned their rivers into meandering, walkable neighborhoods with commercial and residential districts.Many are considering the Miami River to host Miami's next residential and commercial real estate boom.  Several projects have been announced among which ultra-luxury condo tower One River Point and the mix-used master project of River Landing which will offer shops and residences that will span 8.14 acres with 426,000 square feet of retail and restaurant space, 475 apartments, a supermarket and a riverfront park. Besides this the Miami River now offers a variety of high-end eateries and social scenes such as Zuma, the River Yacht Club and SeaSpice.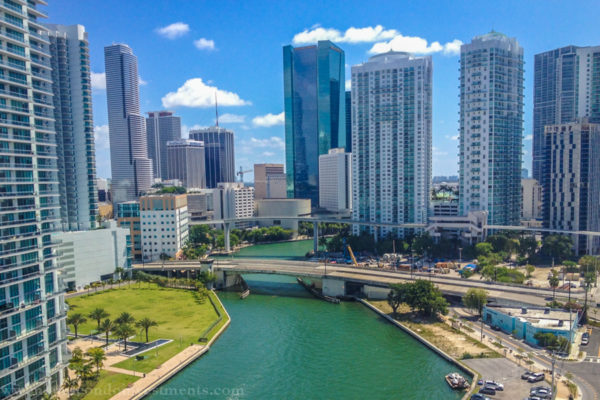 With Coconut Grove, Coral Gables and Pinecrest becoming increasingly more exclusive, The Roads has become more and more desired. The Roads is within close proximity to Miami's greatest schools, but also the financial centrum of Brickell. While many homes in the Roads are slightly dated, prices are more affordable and allow for renovations or remodeling.