High Pines Homes – The Investment Value of High Pines Real Estate
High Pines Homes: A Deep-Dive into High Pines Real Estate
High Pines is one of Miami's hidden treasures; bordered by Red Road (SW 57th Ave) to the southwest, Sunset Drive (SW 72nd Ave) to the west, Davis Rd (SW 80th St) to the east, and just beyond School House Road (SW 52nd Ave) to the northeast. High Pines is part of unincorporated Miami Dade; which many do not know that it is not South Miami or Coral Gables.
This exclusive neighborhood is known for its charming tree lined streets, central location, and old school neighborhood feel, where you can see kids playing in the streets.  Housing selections include 1950's bungalow architecture, luxury new-construction single-family homes, luxury townhomes and condominium communities ranging in price from $600,000 to over $2 million.
Minutes away and in some cases walking distance from High Pines you will find some of Miami's top rated schools, The University of Miami, and South Miami Hospital. Downtown South Miami is filled with restaurants, shops, and almost all the amenities you can imagine all within a mile – a true gem close to home!
High Pines Homes – Some Quick Facts
In 2015:
The most affordable High Pines home sold for $640,000 ($470,000 in 2014)
The most exclusive home in High Pines Miami sold for $2,5 million
The sales prices per Sq.Ft varied between $281 and $481
There are currently 10 High Pines homes for sale
The current inventory of High Pines real estate is 5.1 months, which makes it a modest sellers market (below 6 months is a seller's market, above 9 months is a buyer's market and between 6 and 9 is a well balanced market)
Summary of the High Pines Residential Market
High – end homes in High Pines have reached a new high in price of $477 per Sq. Ft., well on their way to our previous economic peak of $518 back in 2006.
In the table on the right hand side, you can see the average sales prices per Sq.Ft, as well as the average of the lowest and highest three sales prices per Sq.Ft in High Pines for the last few years.
The amount of days on the market for a home in High Pines has dropped from 121 days in 2014 to 58 in 2015 (a 52% decrease). Besides the fact that homes are selling much faster, the inventory of 5 months is a strong indicator we are in a seller's market with fast sales and increasing prices. ( A stabable market which is neither too hinged to the benefits of buyers or sellers is between 6 to 9 months, a sellers market is a market with less than 6 months of inventory).
In 2016 we have seen a "land vale'" sale of $630/sqft, which is very high and greatly due to the extremely low levels of inventory for homes that are available for 'land value' or in need of extreme renovation.
 The average sales prices in High Pines
The amount of homes sold in the last years
and the current amount of listings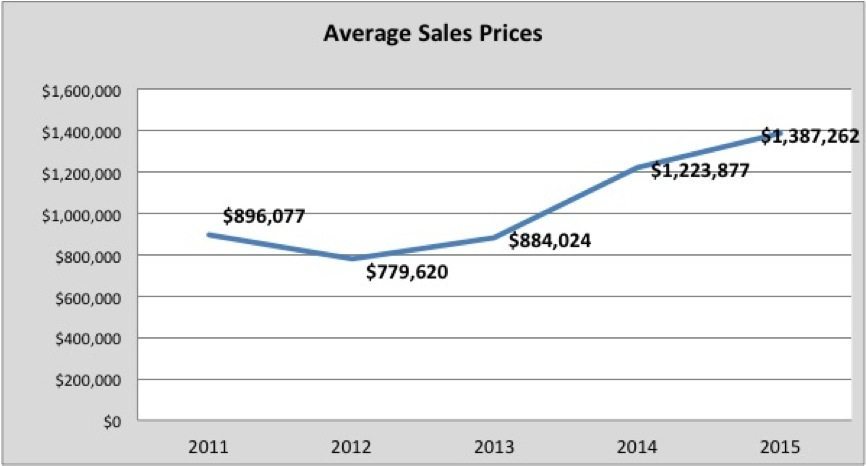 Emerging trends for High Pines Homes
The top-end of the market
The sentiment on the street (which comes from speaking to several home buyers on a weekly basis) is that the market is at a peak and many buyers are now awaiting a correction before they "pull the trigger" and buy. This assestment is backed up by the fact that homes in the $1.5m – $2.5m range are staying on the market longer than previously seen. If you own a home in the neighborhood that is 'one of the best' by either virtue of interior design or size, now is the time to sell and take advantage of peak prices. The general feeling is that we will not see further increase due to the ceiling on what home buyers can or are willing to buy/pay; what we may expect to see continuing to happen in 2016 is a slight correction.
We have seen a good number of new construction single family homes within High Pines these past years and the 'feel' of the neighborhood continues to improve as many of the low – end homes have been bought up and either renovated or rebuilt. We expect to see this trend continue assuming that land can still be found and purchased at a reasonable price.
The mid-end of the market
This area of the market sees a smoother increase with what appears to be increasing due to its high demand. The inventory is very low in homes around the $1m range. We forsee this market to continue to have a smoothe rise in price.
If you are considering moving out of the neighborhood and into other surrounding neighboorhoods (like South Miami, Pinecrest, or Coral Gables), you will see more home for your money in these areas for mid-end to high-end buyers. Please read our other neighborhood reports online or call for a more specific in-depth analysis personalized to your needs.
The low-end of the market
The low-end of the market is identified with those homes that are not as well finished or could benefit from 'fixing up' or 'updating'. Due to extremly low levels of inventory, these are prime for for purchase (if you can find one). If you own one, you would be well suited to invest dollars, into renovations and home improvements, as the market will carry you to a higher sale price in the future. For those extreme cases where owners who do not have the financial capacity to spend money on renovations and the house is in particularly bad shape now is a great time to take advantage of the many home buyers who are looking to buy land and build.
High Pines Homes for Sale
There are currently 10 properties listed in High Pines ranging from $875,000 to $3,195,000 (Varying between $374 to $658 per Sq.Ft)