The David Siddons Group Just Released the Miami Real Estate Market Report 2017
The Ultimate Guide For Miami Real Estate
Like in previous years the David Siddons Group has released another Exclusive Miami Real Estate Market Report which covers 18 of Miami's main residential markets and segments each of these neighborhoods into 5 different price ranges. The report also covers David Siddons' personal narrative which is based on his daily, in-the-field-experience.
Why David wrote the 2017 Miami Real Estate Report
David Siddons is known for his many market analyses and investors guides. He studies the market very carefully and likes to share the findings with his clientele and readers. David finds there is a lack of good-quality market reports covering the Miami market.
Many Miami Real Estate Reports are being written by journalists who do not even live in the city nor work in real estate. Their reports cover the entire Miami real estate market as whole, without respecting the diversity of each area in terms of real estate as well as in terms of the demographic profile of buyers and sellers.
David wanted to make a report that answers the frequently asked questions by buyers and sellers (see input on the right). In essence, David's vision was to create a very actionable report that not only shows statistics, but interprets the numbers and shows the bigger picture.
What is the added value of this Miami report?
This real estate report stands out in so many ways! First of all the market is segmented in 18 sub-markets, which as logical as it sounds, is often ignored in other reports. The report also differentiates between different price ranges. Miami Beach homes perform different than Coconut Grove homes and the luxury market does not perform in the same way as the $500K market.
Instead of providing just for average market prices per SF, the 2017 Miami report also shows the average sales prices for the three most affordable and the three most costly properties. This provides the reader with a better understanding of Miami property values.
Finally, each chapter presents the narrative of a top producing realtor. Although numbers do not lie, they can be taken out of context. David Siddons provides feedback for each market based on his own personal day-to-day experience in order to makes sense of the numbers and to provide the reader with a more holistic overview of the market. Each section is concluded with very actionable advice for both sellers and buyers; What best to invest in, at what price point to buy or to selland  what market to be cautious with.
Please fill in your details and David Siddons will contact you
Get our

Newsletter

No Thanks
Get the latest news from Miami Real Estate News
Email to a Friend
Recomend this to a friend, just enter their email below.
Your email was sent succesfully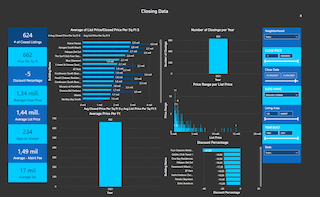 COMPARE WITH CONDOGEEKS