The South Beach Condo Report and Market Analysis – For July 2016
The South Beach Condos Report | Condos for Sale in South Beach
South Beach is the Southern part of Miami Beach. The area reaches from Dade Boulevard in the North all the way to South of Fifth, including the Venetian Islands and the islands of Hibiscus, Palm and Star Island.
Miami Beach is home to a high amount of ultra-luxurious condos of which many are located in South of Fifth. Some of the most luxurious condos are Apogee, Continuum, Glass 120 Ocean, 321 Ocean and Louver House. Also very sought after are the residences in condo hotels such as the Setai, The W hotel and the Miami Beach Edition.
The South Beach Condo Report – Inventory levels in 2015 – 2016
Inventory levels of South Beach condos show high numbers. The luxury condo market however is showing a decrease in inventory which is very unique in today's condo market. Although the South Beach market shows high inventory levels, compared to other desired condo markets like Miami Beach or Brickell the numbers are still moderate.
Rule of Thumb
Below 6 months of inventory: More demand than supply, creating a seller's market
Between 6 and 9 months of inventory: A neutral market with a balanced relation between supply and demand
More than 9 months of inventory: More supply than demand, creating a buyer's market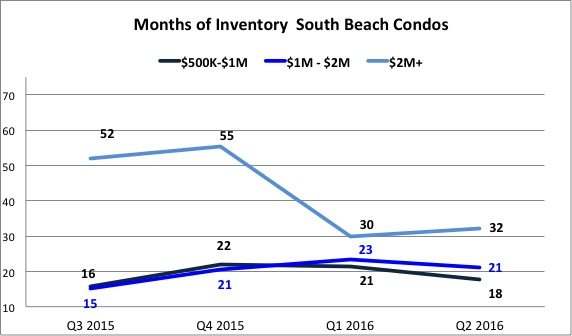 The Lowest, Average and Highest Sales Prices per Sq.Ft in South Beach
Below you see the graph that compares the average of the 10 lowest sales prices per Sq.Ft, the overall sales price per Sq.Ft and the average of the 10 highest sales prices per Sq.Ft.
South Beach condos saw steady levels for their higher, average and lower sales prices. The higher price levels might have fluctuated in the last year but the market doesn't show a significant decline in the highest sales prices per SF
South Beach Condo Report | The Average Sales Prices per Sq.Ft for the different price ranges
Below you can see what homes of different price ranges are selling for per Sq.Ft.
South Beach luxury properties saw a large decrease in prices, while the markets below $2M seemed to flourish in the last year.
The South Beach Real Estate Report – The Average Sales Prices per Sq.Ft over the last 4 years
Looking at the general growth of the market over the last years (made easier for the eye with the help of trend lines*) we see moderately increasing condo prices in South Beach.
*Especially in the luxury segment of the market prices might differentiate substantially from month to months due to limited sales or a sporadic sale of a property with features that are driving prices up (eg a private beach). Using automatically generated trend lines offers the reader a better idea of where the market is heading.