The Miami Housing Market is Hot! It Has Never Been a Better Time to Sell!
If you own a home in the Grove, Gables, High Pines, Ponce Davis, Key Biscayne or Miami Beach
We Want to Hear from You!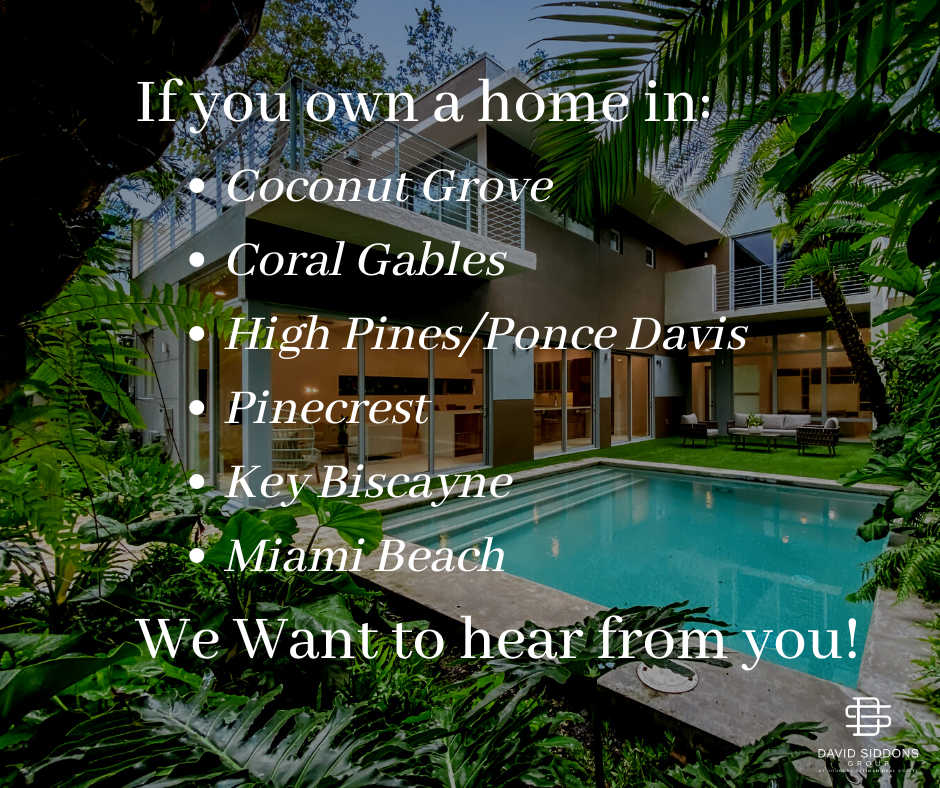 The Miami Housing Market is Hot! In 2020 we have seen the amount of Miami relocations quadruple. The vast majority of these buyers are looking for good quality homes in the primary markets of Coconut Grove, Coral Gables, High Pines, Ponce Davis, Key Biscayne and Miami Beach. Whether it is for their proximity to Miami's best private schools or for their superb waterfront mansions, these areas have seen increased interest from relocation buyers. Most buyers are looking between $1M and $6M while the $10M+ market is also booming with a high demand for ultra-luxury waterfront homes.
As we have one of Miami's heaviest trafficked websites (25K visitors per month) we receive daily registrations of families looking to relocate to Miami. The demand for well-finished homes in Miami's most desired neighborhoods has never been higher. The inventory of good quality homes is drying up quickly and in today's market we simply don't have enough supply to satisfy the outrageous demand for homes. The markets with highest demand are those for the $1M-$3M homes, the ultra luxury waterfront market and the brand new construction homes. I am currently reaching out to owners of off-market properties to see if they are willing to sell in an attempt to provide my buyers with a competitive advantage. Most people don't know that about 30% of the deals happens off-market. Myself and other top Miami real estate agents speak to each other on a daily basis discussing new product coming up. Therefore many of my listings are sold before even hitting the market and my buyers often see properties that are off-market from other agents or from off-market sellers I have on my database.
The Best Miami Real Estate Agent for your Listing is Whomever has National and Global Reach.
Miami is not a market that attracts merely local buyers. Miami is a global city appealing to investors from all over the globe and the latest influx of buyers are from the northeast and California (sometimes referred to as tax-refugees). If your realtor has no website or a website that does not rank with the major search engines how will anyone ever find your listing?
As of recent we have been picking up listings that have been previously and unsuccessfully listed by other agents. Often big listings that have been entrusted to agents with little to no web presence. We are living in a 'post-covid' world now and if it has not become clear, it should become clear that everyone looking to buy property is looking extensively online for options and information to make their purchase before they actually buy. In Miami we have been inundated with relocating buyers and not only do they look for properties, but they look for guidance on the best neighborhoods, schools, gated communities, lifestyle, sales statistics and anything else that helps them focus on the area or neighborhood they want to buy in. Whomever provides that information becomes their go-to partner.
Those who are looking for Miami real estate from out of town do not have a local realtor yet so what are they most likely to do? Either search for a Miami realtor or a site to browse for properties themselves. They start searching on Google for "Coral Gables Homes for Sale", "South of Fifth Condos for sale" or "the best Gated Communities in Miami".  If your realtor cannot be found, your listing cannot be found.
If you have a Coral Gables home and you want to reach buyers for Coral Gables homes then you should have a realtor who ranks high for "Coral Gables Homes for Sale". With 1000's of homes for sale and 1000's of realtors in this town you need to have a realtor that makes your home stand out in the crowd.
The Miami Housing Market is Hot: Sell your Miami Home Now and Get Top Dollar
If you own a home in any of the most desired neighborhoods (Coral Gables, Coconut Grove, Pinecrest, Ponce Davis, High Pines, Key Biscayne or Miami Beach) please give me a call today. If your home is newer, waterfront or well-maintained we will have buyers for it! You will not even have to list it for sale to get it sold! Today's market is ideal for sellers; the disparity between demand and supply puts you in the position where you can get the highest possible price ever.
If you would be open to entertain a conversation about selling at the very least, please give me a call. If you would be open to talk you can rest assured that if you are willing to sell, I will have buyers that I can bring directly. Given our large and ever expanding database, there is a high likelihood we already have a buyer for your property.