Comprehensive Real Estate Report for Coral Gables – Coral Gables Homes of $650,000 – $1M
The most comprehensive and up-to-date report on the Coral Gables real estate market
Homes between $650,000 and $1,000,000
This report is part of the greater 
Coral Gables real estate report 2015
, prepared by the David Siddons Group. To provide the reader with a better understanding and to really appreciate the sub-markets within the Coral Gables real estate market, we created a unique report for four different price ranges.
A typical Coral Gables home within this price range. This home is currently listed for $745,000 or $380 per Sq.Ft. This 3-bedroom home offers 1,960 Sq.Ft of interior space on a 6,200 Sq.Ft lot. Taken from our blog: The best Coral Gables homes for sale
See our other real estate reports for Coral Gables homes
Average prices of Coral Gables homes
In 2015, the average selling price was $353 per Sq.Ft for Coral Gables homes in this price range. Looking at the graph below we can see a continuous increase in the selling price per Sq.Ft since 2010. Despite a small price decrease in 2011, properties have increased in value by 31% over the last 6 years. 
The market has been quite active with 137 closed transactions in 2015 so far. The average selling price for properties below $1,000,000 was $785,151.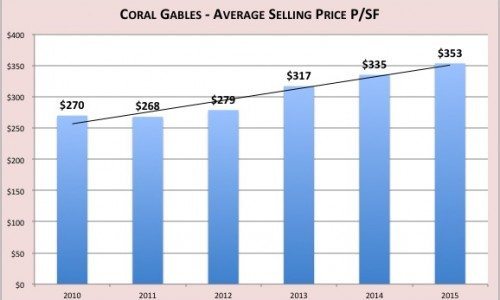 The amount of homes sold over the years. 2015 Shows more sales activity than most of the previous years.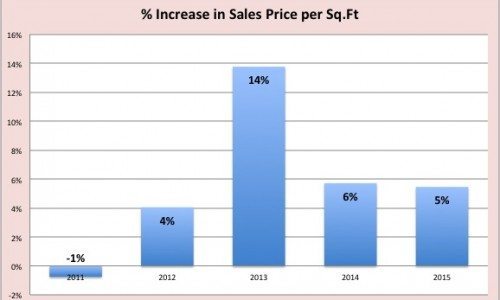 The percentage of increase/decrease of the average selling price per Sq.Ft over the years.
Inventory levels and days on market
The inventory in Coral Gables has decreased significantly in the last few years. Althought the market's inventory increased by a month we are still in a very strong seller's market.
The months of inventory is an important indicator in real estate. It indicates how many months it takes to sell all the current listings under the assumption that no new listings will enter the market.
 ♦ Buyer's market: more than 9 months of inventory based on closed sales
 ♦ Neutral market: 6 – 9 months of inventory based on closed sales
 ♦ Seller's market: less than 6 months of inventory based on closed sales  
Coral Gables homes are also sold much faster than in previous years. While in 2010 it took 140 days to sell a property, Coral Gables properties for sale in 2015 needed only 64 days to sell (A decrease of more than 100%!)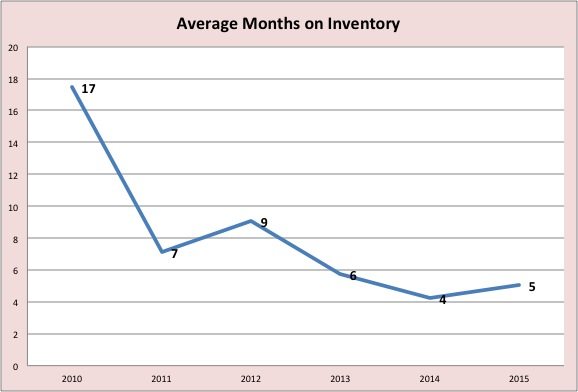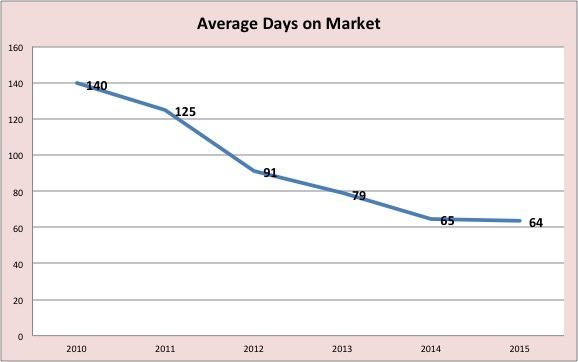 Coral Gables homes for sale at this moment
There are currently 54 homes on the market. We showcase the most important data below. In case you might want to know more about Coral Gables homes for sale in this price range contact David or search for Coral Gables homes yourself by clicking on the link.

David Siddons
david@siddonsgroup.com | +1 305 508 0899
Meet the team and see our unique insights into the Miami Real Estate Market.
No generalized opinions, we offer an analytic approach.
Preferred agents of First time buyers, Sellers, Investors and Wealth Managers