The Pinecrest Real Estate Report and Market Analysis | For July 2016
The Pinecrest Real Estate Report | Homes for sale in Pinecrest
Pinecrest is one of Miami's most desired areas. In a recent poll it was concluded that Pinecrest is within Miami's top 3 home markets together with Coconut Grove and Coral Gables. Pinecrest attracts many families because of its excellent school district. Pinecrest is home to Miami's best and most desirable schools. Pinecrest real estate attracts many buyers because of the large lots, which is harder to find in Coral Gables, South Miami and Coconut Grove. Finally the Pinecrest market is more affordable than fellow top 3 markets like Coral Gables or Coconut Grove.
Pinecrest has seen a surge in real estate values in recent years with many of the older homes having been purchased and replaced with new, large and luxurious Villas and mansions. Pinecest is a sizable neighborhood but the prime most expensive yet desirable part of Pinecrest is considered to be East of Red Rd (57th). West of Old Cutler.  South of 80th yet North of 124th.
The Pinecrest Real Estate Report – Inventory levels in 2015 – 2016
Inventory levels of Pinecrest real estate show a neutral to sellers market for the lower-end of the market. This segment is pre-dominantly in demand with developers who want to invest in land value to build luxury mansions. This segment is also in demand with people who can't afford homes over $1M dollar while they still want to make sure their kids will attend Miami's finest schools.
The $1M – $2M market shows a light buyer's market and in some quarters a neutral market. The luxury end of the market (Pinecrest homes of $2M+) shows a true buyer's market. While high inventories are common within luxury segments of a market, Pinecrest is seeing a high supply of brand new luxury mansions that have been built in the last 2 or 3 years.
Rule of Thumb
Below 6 months of inventory: More demand than supply, creating a seller's market
Between 6 and 9 months of inventory: A neutral market with a balanced relation between supply and demand
More than 9 months of inventory: More supply than demand, creating a buyer's market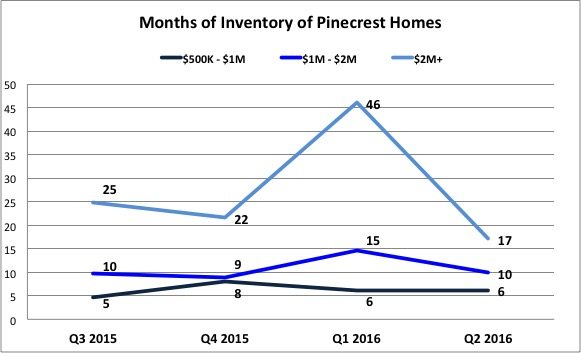 The Lowest, Average and Highest Sales Prices per Sq.Ft in Pinecrest
Below you see the graph that compares the average of the 10 lowest sales prices per Sq.Ft, the overall sales price per Sq.Ft and the average of the 10 highest sales prices per Sq.Ft.
Pinecrest saw steady price levels in the last few quarters. The average price per Sq.Ft seem to have increased slightly while the higher and lower prices stabilized.
Pinecrest Real Estate Report | The Average Sales Prices per Sq.Ft for the different price ranges
Below you can see what homes of different price ranges are selling for per Sq.Ft.
Pinecrest saw steady price levels in the last few quarters. Pinecrest luxury real estate ($2M+ market) saw a less successful Q1 2016, while Q2 showed normal price levels again.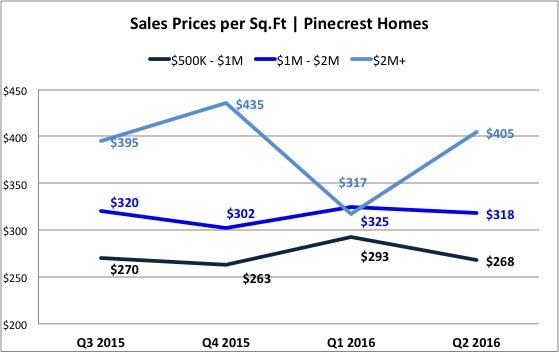 Pinecrest Real Estate Report – The Average Sales Prices per Sq.Ft over the last 4 years
Looking at the general growth of the market over the last years (made easier for the eye with the help of trend lines*) we see increasing prices in Pinecrest. In Pinecrest the property prices between $500K and $1M increased by nearly 31% from the low $200s to the higher $200s.  Properties in the $1 – $2M range increased from $250 to $320 per Sq.Ft which is a 28% increase. The ultra-luxury segment saw the biggest increase of prices with a little over 40% increase.
*Especially in the luxury segment of the market prices might differentiate substantially from month to months due to limited sales or a sporadic sale of a property with features that are driving prices up (eg a private beach). Using automatically generated trend lines offers the reader a better idea of where the market is heading.