One Brickell City Centre
One Brickell City Centre is part of the Brickell City Centre Mega Project
One Brickell City Centre is a proposed 80 story 1,102 feet (336 meters) tall mixed use Condo Tower. It will be the tallest Building in Brickell.
Brickell City Centre
Brickell City Centre is a $1,06Billion mixed use mega project that will change Brickell's city core and dynamics forever. The project is bringing 3 new condos, high-end retail shopping (Think Bal Harbour Shops), office spaces and entertainment to the Brickell area. This project is the hottest Brickell project in years and in a town where new condo are announced on a daily basis this one is the one that is on everybody's lips.
One Brickell City Centre
Section will be updated soon
Little information is provided as yet about One Brickell City Centre. The 80 floor tower will be located on 700 Brickell Avenue. The developers purchased this property in July of this year. It would be the second stage of the enormous — and now-under-construction — Brickell City Centre just to the west. That project will include a luxury shopping center, two residential towers, apartments, offices, and a wellness center, featuring an innovative $20 million "climate ribbon" that will provide air flow
Hong Kong-based developer Swire Properties is planning a 79th-story restaurant and 80th-story lounge to top off One Brickell City Centre tower, the centerpiece of the massive mixed-use development. Pending FAA approval, the high-rise residence, hotel, office space and shopping mall will climb 1,100 feet to become not only Miami's tallest skyscraper but also the tallest building in the U.S. outside of New York and Chicago. The tower will be divvied up this way: floors one through 30 will be used for office space; residential units will take up floors 34 to 66; a hotel will occupy floors 70 to 78 and the uppermost floors will be reserved for the plebs to indulge in the unparalleled views, as long as they are eating or drinking.
Please fill in your details and David Siddons will contact you

Subscribe!
Get uninterrupted access to our entire articles and blogs database.
Get our

Newsletter

No Thanks
Get the latest news from Miami Real Estate News
Email to a Friend
Recomend this to a friend, just enter their email below.
Your email was sent successfully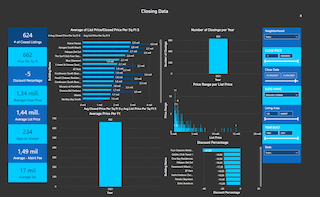 COMPARE WITH CONDOGEEKS

Meet our Team