Market Snapshot Coconut Grove – January 2017
The Coconut Grove Market in January 2017
This is a quick snapshot of the Coconut Grove single family home market in January 2017. The snapshot is meant to provide sellers and buyers alike with a quick and easy understanding of the Coconut Grove real estate market.
Coconut Grove Listings as per January 27th
157 Listings in total
Coconut Grove Sales in December 2016 / January 2017
17 Sales in total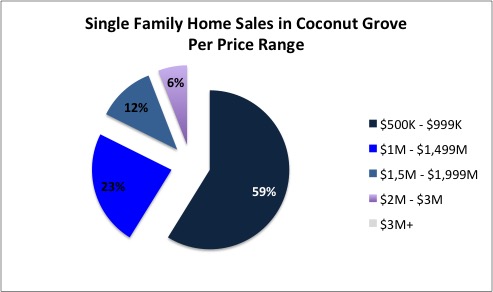 The months of inventory, the most important indicator for future real estate behavior, are showing very healthy numbers. Below the $1,5 million range the market is experiencing a sellers market while the $1,5M – $2M market is experiencing a very well balanced market. The higher end of the market is seeing a buyers market. Given the low numbers of inventory there is no wonder we just listed a Coconut Grove home on Braganza and had it under contract for sale within 5 days (just below asking and with a back-up contract ready).