Edgewater Condos Miami – 2016 Real Estate Report
Edgewater* Real Estate Report | A year in retrospect 2016
Did our predictions come true?
Last year when we wrote the 2015 Brickell Real Estate Report we made some predictions on where the market was heading (Downtown Miami and Edgewater were included) and provided Edgewater condo owners and buyers alike with some advice.
* For the purpose of this report when we mention Edgewater we refer to the area of Edgewater and the Arts & Entertainment District which includes Wynwood and the Design District.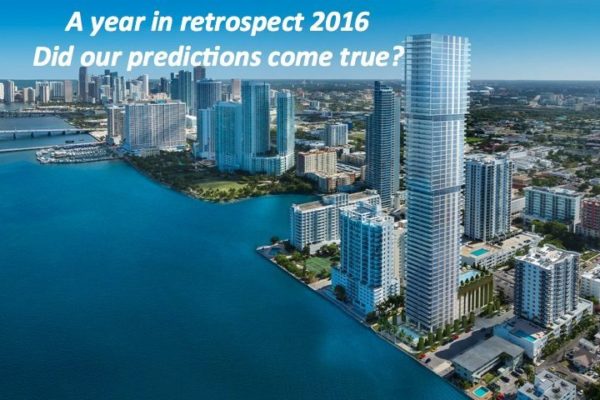 Needless to say Edgewater as well as the Arts & Entertainment District is still a completely different market than the Brickell and Downtown Miami markets. Edgewater has been experiencing a true condo boom which brought Edgewater from an overlooked market to one of Miami's most desired markets. As many of these brand new Edgewater condos are still under pre-construction the resale market will see some heavy price and inventory changes in the near future once these pre-construction units hit the resale market.
Did our Edgewater Real Estate Market Predictions come true?
I would love to say that we have a vision of where the market was heading, but the truth is that many other well researched and educated owners saw exactly what we saw. The market really did perform how we thought it would. So, 'Yes' we predicted correctly!
The Edgewater Real Estate Report – Inventory levels in 2015 – 2016
Inventory did indeed continue to rise through the end of 2015 into 2016. It peaked in January 2016 with 46.7 months of inventory (that is almost 5 times more than a stable market can handle!). It continues to remain high but has oscillated a little and currently sits at 36 months.
As mentioned before Edgewater went from an almost overlooked market with a limited amount of (mostly dated) condos to a very desired condo market with the newest and most luxurious condos. Some of these condos were released in the last year, which created the sudden rise in Edgewater's inventory.
Rule of Thumb
Below 6 months of inventory: More demand than supply, creating a seller's market
Between 6 and 9 months of inventory: A neutral market with a balanced relation between supply and demand
More than 9 months of inventory: More supply than demand, creating a buyer's market
Inventory per type of Edgewater Condo
How much inventory is there across the unit ranges?
1 bedroom Condos – 36 months
2 bedroom Condos – 39 months (previously as much as 61 months in January 2016)
3 bedroom Condos- 26 months (112 month peak in March 2016).
4 bedroom + Condos – 14 months
The Edgewater Real Estate Report – Average Prices per Sq.Ft in 2015 – 2016
The average price per Sq.Ft dropped from $413 in 2015 to $406 in 2016 (Data taken until July 2016). The average sold price of a unit in Edgewater today is $465,000.
The Edgewater Real Estate Report – Average Days on Market 2015 – 2016
Edgewater Condos continue to linger longer on the market as buyers hesitate to pull the trigger. In 2015 the average amount of days a property stayed on the market before being sold was 115 days, today that is an average of 153 days. The lesson here is that sellers need to wake up to the fact that if they want to move their units fast they need to come in line with the market or expect a lengthy wait.
An average 1 bedroom is: $333,000 (Listed on average for $381,000) – 13% less
An average 2 bedroom is: $463,000 (Listed on average for $638,000) – 28% less
An average 3 bedroom is: $820,000 (Listed on average for $1,017,000) – 19% less
An average 4 + bedroom is: $2,875,000 (Listed on average for $3,310,000) – 13% less
  Comparing the different price ranges in Edgewater Condos
Compared to Brickell and Downtown Miami, Edgewater saw more price increases over 2015/2016. Inventory is high like in all other areas but within the $500,000 – $800,000 price range we are seeing an extremily high inventory.
As stated before many brand new luxury condos entered the Edgewater market, which before was known for its more dated condos. The introduction of luxury condos into this (previously more dated) market might have had an positive effect on the prices. Likewise as many of these brand new condos were priced in the $500K – $800K range, this might have explained the enormous rise in inventory within this price range.