Brickell Condos Miami – 2016 Real Estate Report
Brickell Real Estate Report | A year in retrospect 2016
Did our predictions come true?
Last year when we wrote the 2015 Brickell Real Estate Report we made some predictions on where the market was heading and provided Brickell condo owners and buyers alike with some advice and guidance. Our 2016 report looks back on the last year and discusses where we are heading. Don't miss David's conclusions at the bottom of the report.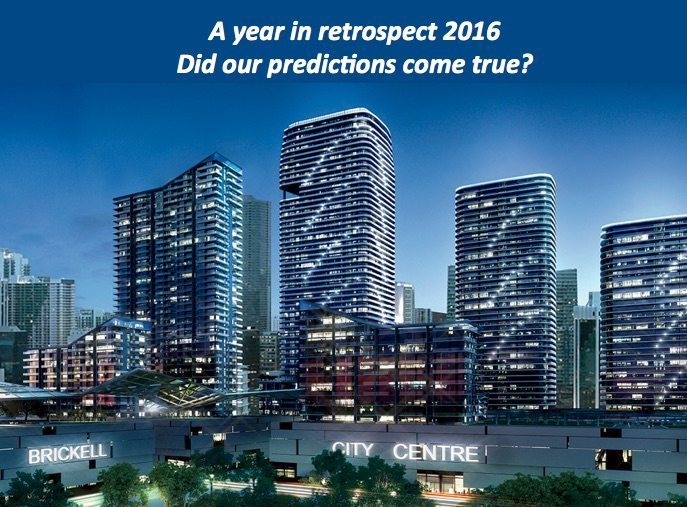 Did our Brickell Real Estate Market Predictions come true?
I would love to say that we have a vision of where the market was heading, but the truth is that many other well researched and educated owners saw exactly what we saw. The market really did perform how we thought it would. So, 'Yes' we predicted correctly!
The Brickell Condo Market in 2 minutes | A quick, easy and complete explanation of the Brickell Condo Market
The Brickell Real Estate Report – Inventory levels in 2015 – 2016
Inventory did indeed continue to rise through the end of 2015 into 2016. It peaked in Feb 2016 with 30 months of inventory (thats 3 times more than a stable market can handle!) It continues to remain high but has oscillated a little and currently sits at 22 months.
Rule of Thumb
Below 6 months of inventory: More demand than supply, creating a seller's market
Between 6 and 9 months of inventory: A neutral market with a balanced relation between supply and demand
More than 9 months of inventory: More supply than demand, creating a buyer's market
Inventory per type of Brickell Condo
How much inventory is there across the unit ranges?
1 bedroom Condos – 26 months
2 bedroom Condos – 21 months (previously as much as 35 months in March)
3 bedroom Condos- 28 months (50 month peak in February).
4 bedroom + Condos – 15 months (previously as much as 35 months in March)
The Brickell Real Estate Report – Average Prices per Sq.Ft in 2015 – 2016
The average price per Sq.Ft dropped from $450 in 2015 to $425 in 2016 until July 2016. (it hit its low in March at $386). The average sold price of a unit in Brickell today is $477,500.
 The Brickell Real Estate Report – Average Days on Market 2015 – 2016
Brickell Condos continue to linger longer on the market as buyers hesitate to pull the trigger. We currently have hit an all time high from July 2015 when days on the market averaged 110 compared to 163 for June 2016. The lesson here is that sellers need to wake up to the fact that if they want to move their units fast they need to come in line with the market or expect a lengthy wait.
An average 1 bedroom is: $300,000 (Listed on average for $380,000) – 21% less
An average 2 bedroom is: $517,000 (Listed on average for $650,000) – 20% less
An average 3 bedroom is: $1,132,000 (Listed on average for $1,357,000) – 16% less
An average 4 + bedroom is: $3,406,000 (Listed on average for $6,254,000) – 46% less
–
This tells us again that what sellers are asking and what they sell for are quite different! The expectation to reality is quite different, and the biggest correction is in the 4+ bedroom market.
Admittedly units don't sell for 2 reasons: price or marketing.
We are experts in the area of selling Brickell condos and know what it takes to get your unit sold.
 Comparing the different Brickell Areas
Historic Brickell which is the part of Brickell South of SW 15th Rd. This is the more quiet part of Brickell along Brickell Avenue
The Central Part of Brickell which is the area around Mary Brickell Village but West of South Miami Avenue
The waterfront area of Brickell and Brickell Key which is also known as zip code 33131
It seems the historic part of Brickell performed best with the lowest inventory, the least decrease in prices and the fastest sales. Brickell Center performed the least.
Comparing the different price ranges in Brickell Condos
The only category that saw increasing prices in 2016 are the condos of $1,5M or more. Overall the lower end of the market seems to be doing best with the lowest lost in value and the lowest inventory levels.