Best Realtor in South of Fifth? Why Choose the David Siddons Group
Discover why we are the Preferred South of Fifth Realtor for our Clients
Are you looking to buy South of Fifth real estate or to sell your South of Fifth condo? Ensure yourself you are working with the best South of Fifth Real Estate Agent.
 Watch our video testimonials below:
As a South of Fifth Luxury Realtor, David Siddons creates exclusive listing videos for your property
Why do our clients think David Siddons is the best realtor in South of Fifth?
♦ We are analysts who are monitoring the market on a daily basis while sharing this information with our clients in any of the many blogs or market reports
♦ We show our clients (both sellers and buyers) the numbers and offer complete transparency within the process. We do not shy away to warn you from bad investment decisions (Referrals are more important than one time commissions)
♦ We are top producing agents who think out of the box with a proven track record and a unique marketing approach
About the David Siddons Group – South of Fifth Luxury Real Estate Agent
Stefania Cambarau is the South of Fifth expert of the David Siddons Group. She currently works and resides in South of Fifth and does a great amount of deals within this area.
David is a Chairmans Club: 'Diamond Level' (Top 1/2% of realtors nationwide) producing agent for EWM International and Christies. He lives with his wife and 2 daughters in Coral Gables and his offices are also located in the Gables. Originally from the UK, his natural discipline and work horse ethic is well suited to his passion for testing sports – Triathlon's and Ironman races to name a few. David and his team consistently serve clients across the Miami-Dade county, specializing in selling property in the luxury neighborhoods of: Coconut Grove, Coral Gables, Brickell, Downtown, Miami Beach, Bal Harbour, Aventura and Sunny Isles. "Our aim has been to give our clients a serious competitive advantage by providing them with the most useful analysis in their specific required market. We seasonally provide reports on the respective neighborhoods and highlighting the best deals as well as trends and figures that will further impact that neighborhood.
David Siddons – A SOFI Real Estate Agent in the media
The David Siddons Group knows the market like nobody else. Besides our day to day experience of living and working in South of Fifth we study the numbers and we track the market on a daily basis. We authored several investment guides and we have been quoted by multiple media outlets such as Bloomberg, BBC, The Real Deal and the Miami Herald.
♦ The David Siddons Group in the media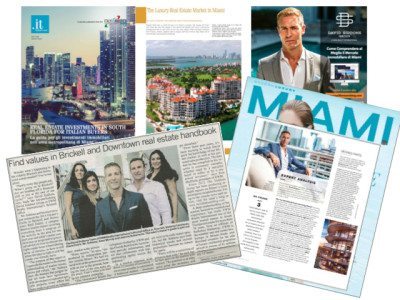 David Siddons – A South of Fifth Realtor offering you a world of information
The David Siddons Group writes tens of articles on a weekly basis on the South of Fifth real estate market. Besides South of Fifth real estate news we offer many other features such as newest listings, latest sales, South of Fifth Market reports and state of the art search tools
For South of Fifth Buyers
Stefania Cambarau lives and works in SOFI and loves to talk South of Fifth Real Estate. She can provide you with inside information and day to day experience, in combination with great data analytics. In case you are looking for a SOFI property please contact us today or start searching yourself via our brand new and state of the art search tools on the right side.
For South of Fifth Sellers
Are you looking to sell your south of Fifth condo? Contact us today for a personalized chat and a comparative market analysis. We are known for our excellent marketing and we provide high-res professional videos and pictures to market your listing. For more information in how we sell Miami real estate please click on the link.