Advice for North Eastern CFO's – 5 reasons to relocate to Miami from NYC or any other High Tax State
This blog is for the CFO's, because you are the 'numbers guys' and if anyone gets it, you will!
In essence this is a blog about the substantial personal financial improvements you make to the quality of your life by moving to Miami. Many big company's CFOs travel anyway and if you are currently residing in a high tax state you are hurting yourself to the level of many hundreds of thousands of dollars and in many cases several million dollars over the next few years.
I have always operated under the pretext of doing quality research; presenting the facts and the findings and the clients will appreciate being educated and empowered to make better decisions'. So this is essentially what I am doing here, just looking to open a few eyes and doors to the opportunity of relocating to Miami and if you think this suits you, you pick up the phone and call me!
The Advantages of Moving to Miami
I probably handle a dozen or so relocation buyers a year (If you've ever googled: 'Relocating to Miami' or 'Moving to Miami' you will find my relocation guide first), but the topic got my full attention when I got a call from the CFO of a large multinational. He ended up convincing the CEO and the entire operating staff of their $6 Billion company to move to Miami!
We looked at the inherent costs of living in the high-tax states and we not only noticed the 10% (or 14% if you are from NYC) of lost income from their current city & state taxes, but also many other advantages of living in Miami. The 'cost of living' and the multiplier effect of owning a home in Miami over several years (for what is essentially zero cost given the enormous tax costs that one saves) allows the owner to benefit from seeing their mortgage get reduced and a potential appreciation of the home value. The multiplier effect often makes the added value of not 10-14%, but 20% or more. This is absolutely impressive. If you are a high level executive and you are making $1m or more a year, this is potentially $200,000+ back in your pocket per year.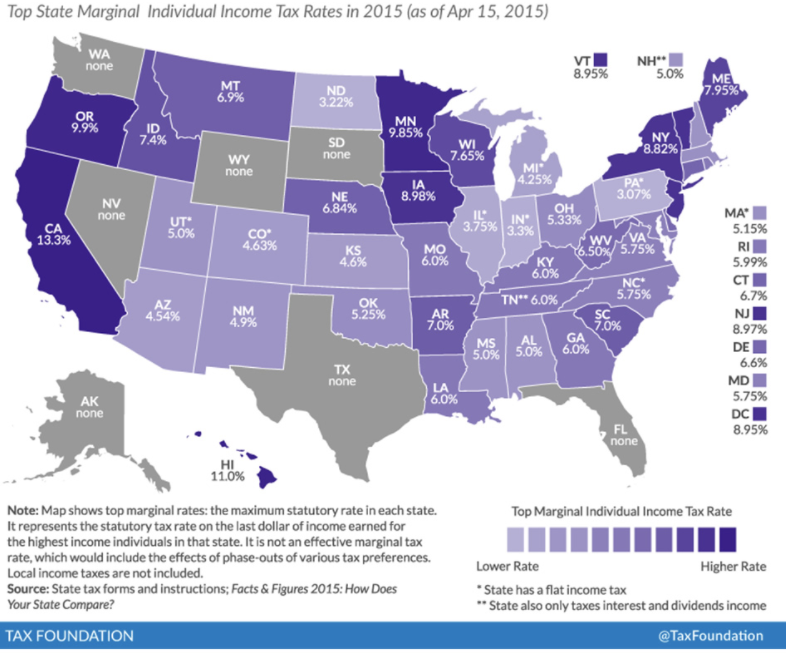 Lets be honest, living in Miami is not a hard sell. The weather is amazing 90% of the time, cost of living is lower and Miami has some truly excellent schools. The snobbery we used to see regarding Miami being the 'wrong demographic' and just a place for second home owners and tourists, has now gone. If you are from the North East of the US, the invasion has already well begun and we have an absolutely massive number of North Easterners and their businesses are now setting up shop here.
The other final nail in the coffin was 'Hurricane Sandy', when those up the North East coast realized that they were not immune to bad weather events and actually were more ill prepared than Floridians who have spent their entire lives preparing for big storms. Our city does not come to a stand still when we get storms, it's business as usual. We know how to deal with it and are able to bounce back better than anyone else. Just look at Irma last year. 5 Days after the storm you could not tell that a big storm had hit at all. Power was back and tree debris was all removed from the streets.
Want to know the businesses that are already here?
Many companies have already made the move down south. Diageo, HIG Capital, Novartis Pharmaceuticals Corp, Oracle, SAP, Schering-Plough and many more are now based in Miami with their headquarters or regional quarters.
In conclusion Miami consistently ranks in the top most desirable cities to live on the planet and is the frontrunner in fastest growing personal incomes in the US. Why? Because all the best companies are moving here!